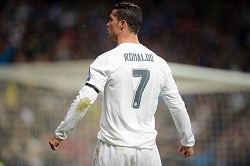 With the Euro finals coming up shortly,let us discuss about the players who are influential for their respective teams
France
France, the host of this year's edition seems to be the red hot favorites to win this cup. France will look to rely on some of its players to be successful.
1.Antonioe Griezmann
The 25-year-old Atletico Madrid player has been by far the best player for the Les Bleus.Coach Deschamps will look to Griezmann to fire early.With six goals in his kitty and an average of four shots per game,Portugal ought to stop this man from shooting so that they will not concede. The Frenchman will most likely be in top 3 for the ballon d'or this year.
2.Dimitri Payet
The 29-year-old West Ham United striker has been on song. His lethal freekicks has always been a problem for the goalkeepers.His form will also be the key to their success.He is a dead ball specialist which will be vital for this game.
Portugal
Portugal have earned the name of "Underdogs" this season.Without having won a single game before 90 minutes until the semis,Portugal have a lot of strength to hold the game and win it.
1.Cristiano Ronaldo
The 31-year-old winger cum striker for the Galacticos has been phenomenal when the team needs him.He has been inspiring and leading his team from the front.With the partnership of Quaresma,Ronaldo will be unstoppable.
2.Renato Sanches
The 18-year-old midfielder has been sensational. The new Bayern Munich signing has been fearless and plays the game in a beatiful manner. His style of play may pose a threat to the French defenders and midfielders like Pogba.
It looks like the Euro final seems to be an exciting counter between two contrasting teams.