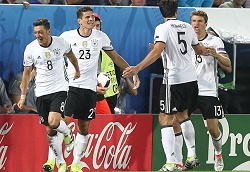 Gareth Bale is relishing his chance to play in the semi-finals of Euro 2016 with Wales after enduring years of jibes from club team-mates.
Bale saw five major tournaments come and go over the first 10 years of his career, but with Wales having ended their 58-year wait on the international sidelines, the 26-year-old is making up for lost time.
But as he prepares to compete in the biggest game in Welsh football history, Bale was in a jubilant mood as he faced reporters on Monday, as reaching the last four in France has given Bale reason to recall with a smile the jibes to which he was once subjected.
Wales now play Portugal on Wednesday for a place in Sunday's Paris final and he would love to take on Germany, who face France on Thursday, after revealing banter between him and Real Madrid colleague Toni Kroos from before the tournament.
"I have had a lot of abuse over the years," the Real Madrid forward said.
"Just when we used to lose and when we were (ranked) 100th in the world. You have nine weeks' holiday instead of two. It is good to finally be in a major tournament, actually doing great things with our national team. It is great to be a part of."
He added: "We've obviously exceeded a lot of people's expectations, we understand that. But we always believed we could go all the way - you see the fairytale of Greece and Denmark in the past and you think, 'Why can't we do it?."
"I fully believed that we could do something and that is why I booked my holiday for the 11th [of July]. I am not like the others. We gained a lot of confidence, especially from the Belgium game in qualifying.
"We felt we could beat the big teams and we have grown from there. We learned a lot from the first two games against Slovakia and England, we have really progressed since then and got a lot more confident." he said
Gareth Bale now faces competition from Real Madrid team mate Cristiano Ronaldo as Wales faces Portugal in the semi-final of Euro 2016
Although Portugal is yet to win a single match in 90 minutes in Euro 2016 and Wales are performing above expectations, it will still be a thrilling match between the two teams.