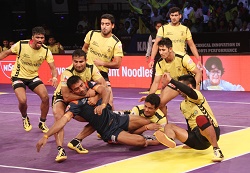 Telugu Titans finally registered their first win of the season as they beat Bengal Warriors. A strong first half performance gave them the momentum to beat a disappointing Warriors side. 20-year-old Sandeep Dhull had a terrific game in the defence for Titans and scored eight tackle points whereas skipper Rahul Chaudhari scored 10 raid points.
The victory helped Telugu Titans climb out of the bottom of the table as they have eight points from four games. Bengal Warriors sunk to the last place and have seven points after five games. Rahul Chaudhari recorded his 19th "Super 10" of Pro Kabaddi League.
Telugu Titans made a swift start as they took a 5-0 lead in the first five minutes. The Bengal Warriors were looking in disarray and suffered an all-out in the seventh minute and the Titans led 9-1. Telugu Titans were relentless as their raiders and attackers combined well and gave very little in the first ten minutes. Sandeep Dhull scored four tackle points for Telugu Titans in the first half. The Warriors restored some credibility as Nitin Madane scored three raid points to reduce the deficit to six points after 17 minutes. Sandeep Narwal scored two points in the 18th minute as Telugu Titans ended the first half at 15-8.
Bengal Warriors were clearly missing their star Jang Kun Lee but began the second half strongly and scored two points in the first half to cut the lead to five points. The Warriors' strategy in the second half was to get their defence more involved and it worked for a while as they trailed 13-17 after 27 minutes.
However, Telugu Titans turned it on in the last 10 minutes as Sandeep Dhull attained a "high five" in the 29th minute and K Prapanjan scored two raid points to restore a seven-point lead. Rahul Chaudhari pulled off an excellent five-point raid and inflicted an all out as Telugu Titans took an unassailable 13-point lead in 32nd minute. With less than five minutes to go, Telugu Titans led 29-14. A hapless Bengal Warriors side was completely outclassed as Telugu Titans produced their best performance of the season to win 35-18.