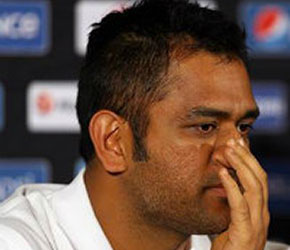 Mahendra Singh Dhoni got emotional when asked about his association with Chennai Super Kings in the IPL which he had led with immense success for eight years. Dhoni, who will now lead his new team, the Rising Pune Supergiants, said after eight years of IPL, it felt very different to play for any other team.
According to a news report in The Times of India, Dhoni said, "I would be lying if I say I have moved on. That is the special part of being a human being. There is got to be an emotional connect after eight years (with CSK)."
"If you want me to be politically correct, that is not how I am. After eight years of IPL, it feels very different to play for any other team. All of a sudden if you want me to say that I am very excited to play for a new team, don't give credit to CSK and the fans for the love and affection they have given us, it will be wrong. But as a professional, I would like to thank the Pune team for taking me," he said, according to the reports.
According to a report in The Hindu, Dhoni raved about the CSK team composition while looking ahead to form a similar RPS unit. "We will miss a lot of players. A simple calculation — if you take into account how the players, who were with CSK, were sold at the auction or draft you will get their accumulative value and know how important they were. We performed consistently in all IPLs. Overall the team and support staff did very well."
Dhoni was happy to have the services of former CSK coach Stephen Fleming in the RPS side. "Life becomes slightly easier. His man management skills are good. He is calm and composed like me. His commitment to the team is fantastic."