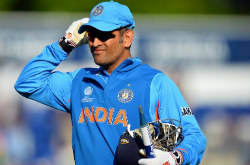 Canberra: Highly disappointed with India's performance against Australia in the fourth ODI in which India gifted away the match after being in dominating position, Indian skipper skipper Mahendra Singh Dhoni said that this was one game in which they should have batted much better. However, taking the blame, as he failed with the bat, Dhoni said after stupendous batting from Virat Kohli and Shikhar Dhawan, it was his duty to take the team home.
"I'm not angry, I'm disappointed. This was one game we should have batted much better. I'll take responsibility. I should have carried on but I got out. After the fall of quick wickets, there was a bit of pressure on the youngsters," said Dhoni, adding that international cricket was all about pressure and the youngsters would learn with experience.
"Rohit batted very well with Shikhar. And Dhawan and Kohli batted majestically. In the last five years, we have not had a fixed bowling line up other than the spinners. That pushes us to the extreme to get some extra runs," he added.
Kane Richardson, who was Man of the Match for his five wicket haul, said, "It's a funny game. We always knew it would speed up once we got a wicket but we did not get it. Hastings could be up here as well. You try and bowl good balls but sometimes they go for sixes. It's our job to try and stop them."
Meanwhile, Australian captain Steven Smith said a couple of wickets changed things for them. "Richardson did very well. You had to try out everything when Kohli and Dhawan bat the way they were were batting today. We had a never say die attitude tonight. When we had a sniff, we made a run for it."