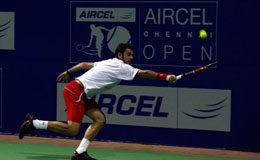 CHENNAI: Two-time Grand Slam champion, Switzerland's Stan Wawrinka will be back in Chennai to defend his title at the Aircel Chennai Open 2016. India and South Asia's Premier ATP World Tour tennis event, Aircel Chennai Open 2016 is scheduled to be held at the SDAT Stadium from 4th to 10th January 2016.

Speaking about the season-opening tournament, Wawrinka said, "I've always enjoyed coming to Chennai. The tournament is a nice way to start the season, the fans are great and I like the atmosphere in the stadium. Of course I would love to defend my title, but I will have to go match by match."
Aircel Chennai Open 2016 will be Stan's eighth visit to Chennai and this year he will be looking to defend his title and claim a hat-trick of championship wins. For someone who has wowed Indian tennis fans numerous times in the past, audiences are eager to see him reclaim his title. His big serve, exceptional state of fitness and single-handed backhand, which is perhaps the best in the game, won him his second Grand Slam – the French Open 2015 at Roland Garros against World no. 1 Novak Djokovic in June this year.

On his biggest 2015 win, Wawrinka added, "For sure winning Roland Garros was my biggest win. This title means so much to me. I played an amazing final against Novak and I'm very proud of my performance. Adding a second Grand Slam title to my career, this time with wins over the world number 1 and 2 is just amazing."

Speaking further about the match against Novak Djokovic at Roland Garros where he struck 59 winners, almost twice as many as Djokovic, and on his relationship with the world no. 1, Wawrinka said, "Novak is an unbelievable player, he has played so strong during the whole year and deserves to be number 1. Beating him in the final meant a lot to me, it made me very proud. I played amazing tennis on that day and managed to find a solution against him. I've played several tough matches against Novak in Grand Slams recently. I know that I have my chance if I play my very best tennis. I've beaten him before and you have to remain mentally strong when you face him and especially in such an important match. Novak is an amazing player and a funny personality. We often practice together and respect each other a lot. We've played a lot of great matches against each other and have shared many special moments."

On his coach Magnus Norman, and how he has helped improve his game, Wawrinka added "Magnus is a great person. I really enjoy his vision of the game; the way he communicates. He's very natural and he was a great player himself so he knows how it feels to step on a crowded center court or to be in a Grand Slam final. I saw how he worked with Robin Söderling and had a feeling that he could be the right coach for me. He's also great working with the other members of my team like my fitness coach Pierre Paganini or Severin Lüthi, our Davis Cup captain who has been helping me a lot as well."

Reviewing the year behind, and looking into the start of yet another season on the tour, Wawrinka said, "2015 has been an amazing year and 2016 is already around the corner. I want to continue to do well, win tournaments and go deep at the Slams. And hopefully I get a great start into the season in Chennai again. I'm somebody who really likes to work hard. I like to get up early in the morning and enjoy practising a lot. That helps me a lot, because a tennis career is very much about working hard and enjoying what you do."

The Swiss finished at No. 4 in the Emirates ATP Rankings for the 2nd straight season and in the Top 10 for third straight season. With his 2nd Grand Slam title as 30-year-old at Roland Garros this year, he became the oldest champion of the event since Gomez in 1990. 'Stan the Man' as he is popularly known, is the winner of 11 career titles, including two at the Aircel Chennai Open in the last two consecutive years. Along with No. 1 Novak Djokovic, Wawrinka is one of only two players to reach QF or better at all 4 Grand Slams in 2015. Wawrinka reached the semi-finals of the year-ending Barclays ATP World Tour Finals for the third straight year this year. He enters 2016 having played in 43 consecutive Grand Slam main draws since his major debut at 2005 Roland Garros.

ACO 2016 will witness an exceptional line-up of top talent at the US$480,000 prize money tournament. Cutting off at 98, the impressive player field for the region's most exciting and hard-fought tennis tournament will see World No. 4 Stan Wawrinka vying for a hat-trick of titles, Chennai-debutant World No. 12 Kevin Anderson, World No. 19, ATP's Comeback Player of the Year 2015 Benoit Paire, World No. 25 Roberto Bautista-Agut, along with Guillermo Garcia-Lopez, Gilles Muller, Vasek Pospisil and Aljaz Bedene representing nine players from amongst the top 50 in the world.