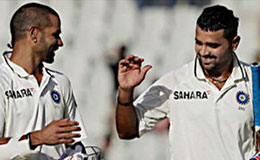 Four days of washouts owing to persistent rain and wet ground conditions led to the second cricket Test being officially called off in Bengaluru on Wednesday, with hosts India leading the four-match series against South Africa 1-0.
The on-field umpires called off the match after an inspection at 11.30 local time. It is the first time in the history of Test cricket in India that four days have been completely washed out.
The match was declared drawn as the drizzling did not stop unitl afternoon and overnight rain had made its impact on the ground. The third and penultimate game is to be held at Nagpur, with India leading the 1-0.
Puddles had formed in a few uncovered areas near the edges of the ground at the Chinnaswamy Stadium. Shikhar Dhawan (45) and Murali Vijay (28) were on the crease and ended the first day on 80/0, after which play did not continue. It was a not-so-memorable 100th test for ABD though he played a classy knock in the first innings scoring 85.
India skipper Virat Kohli said after the match, "The bowlers did a commendable job, bowling South Africa out in less than three sessions is something that's very rare. A lot of people were surprised when we decided to field first. All credit to the bowlers, Bangalore is known for its runs, but our bowlers showed their character.
"It's a pity that we lost four days when we were in such a strong position. Fans who had arrived with huge hopes were left battered when it started to rain again,though more of a drizzle, as it was not suitable for continuing the match.
The umpires had a final call and called off the match after the 11.30 inspection, shattering the hopes of Bengaloreans.
The statistical higlights of the first day are as follows :
Virat Kohli won the toss and put South Africa to bat, surprisingly.
Bangalore is a batting pitch and captains who have won the toss have batted first always.
Abraham de Villiers' 38th fifty in Tests is his fourth vs India.
In India, his record is quite impressive — his tally being 536 in eleven innings at an average of 53.60, including a hundred and three fifties.
This match was also ABD's 100th Test match which ought to be remembered.
In the present Indian tour, de Villiers has managed 741 runs at an average of 67.36 in eleven matches.
Ravindra Jadeja has captured 18 wickets (ave.15.55) in only three Tests vs South Africa.
Jadeja proved his abilities as an all-rounder.
Shikhar Dhawan's 45 not out is his highest score in seven innings vs South Africa in Tests.
It was a relief to see Dhawan spend time at the crease, and he got comfortable as play progressed.
South African team is without their star bowler Dale Steyn — the last occasion when he had missed a Test was against England in the Centurion Test in December 2009.
Before the present Test, he had appeared in 48 Tests in succession for South Africa.
South Africa certainly missed the services of Dale Steyn who has an excellent record in India.
Hashim Amla is averaging 16.66 in the present series vs India.
When the South Africans had visited India last time in 2009-10, he had averaged 490.00 — his aggregate being 490 in three innings, including three centuries.
Ravichandran Ashwin has claimed four wickets or more in an innings eight times in seven Tests — the most occasions a bowler has achieved the feat in Tests in 2015, surpassing the seven in 7 Test Pakistan's Yasir Shah.
After posting a 283-run partnership by Shikhar Dhawan and Murali Vijay vs Bangladesh at Fatullah in June 2015, the unbroken partnership of 80 between Vijay and Dhawan is India's first fifty—plus stand for the opening wicket in nine innings.
This shows the inconsistency of Dhawan and it certainly was a relief to see him play confident strokes in his knock of 45.
The focus will now shift to the next test match to be held at Nagpur which is a must-win match for the proteas to save the series.