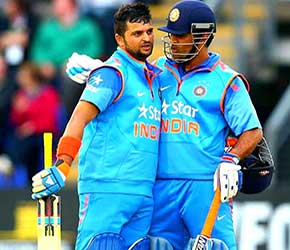 Till now India has played only two matches in the tournament. Though their performance against New Zealand was quite disappointing, yet they managed to win back the hearts of the fans after the match against Pakistan. Now let's explore the few ideas that will make the Indians to believe that their team will can certainly make it to the final of the World T20 series.
Home Ground
It is known by all of us that every sports team enjoys a great advantage whenever they play at home. Home teams have the crowd behind them, roaring them on, filling them with confidence, while their opponents have to deal with the crowd's open hostility or silent taunts which give a fatal blow to their confidence. The home team knows the playing conditions inside out; the away team never knows when they are going to get ambushed by their lack of local knowledge. The hosts feel at home; the away team feels lost. This time all these benefits will be enjoyed by the Indian cricket team as they are the host of the tournament. Thus, it is expected that the better will fall on them.

India's winning momentum
With a splendid performance in the Asia Cup, Dhoni and his team must be well-equipped with the ongoing world T20 series. They have easily clinched the Asia Cup title. MS Dhoni has commented that it was very important for India to not to lose the final of the Asia Cup to keep the team's momentum intact leading up to the World T20. The unit is a well balanced one with the only question mark over seamer Ashish Nehra who made way for Mohammad Shami.
Virat's amazing form
Though India lost their first match of the tournament against New Zealand, Virat's strike rate was 85, which was next to MS Dhoni's strike rate in the game. His mesmerizing performance in the match against Pakistan was noteworthy. He scored 55 out of 37 balls which included 7 fours and 1 six.
Thus at present he may be taken as the key player of Indian cricket team who never disheartens his fans. Also his contribution in the Asia cup was remarkable. Thus, his form is fueled up enough to put the ground on fire.
With all these benefits and positives, it is expected that the Indian team will surely make their way to World T20 final. So let's cheer for the team and watch out the rest of the tournament with a deep hope that India will make their way to World T20 final. May the city of joy get ready to welcome MS Dhoni and his men in the final.