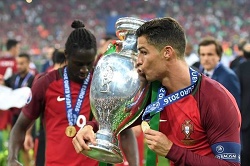 Paris: Portugal defeated France 1-0 to win their ever Euro Championship, here on Sunday. Substitute Eder scored the winner for Portugal in extra time. This was the first Euro final to end scoreless at the end of 90 minutes.
Portugal were in for a shock as their captain and star player Cristiano Ronaldo had to leave the field due to an injury, giving a setback to the team's hopes of winning their first major trophy. However, they held their nerves and grabbed the opportunity when it mattered the most.

"We beat France and I'm delighted. This is one of the happiest moments in my career. I've always said I wanted to win a trophy with the national team and make history. And I did it. Thank God, things went well for us. I'd like to thank my team-mates, our coach, our wider team in this Euro, the Portuguese people and all the ex-pats who were always with us, cheering for us from the beginning. This is a unique moment for me, for all the Portuguese people and it's unforgettable," said Ronaldo after lifting the trophy.