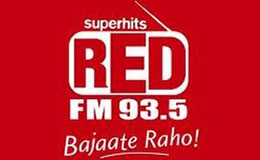 Delhi: Red FM has a long-standing association with sports and now it's celebrating India's most preferred game with IPL season 9 in true Bajaate Raho style. This year for the ninth season of IPL, Red FM has come on board as the Right Upper Chest Jersey sponsor for Sunrisers Hyderabad team and has also associated with Kolkata Knight Riders and Rising Pune Supergiant as their official radio partner.
We live in a nation where cricket resonates well with the enthusiasm and passion of the young generation and so Red FM constantly strives to bring the best of insights and fan experience from the world of cricket. Taking forward this momentum ahead Red FM has extended its network endorsement towards cricket via the biggest sporting extravaganza IPL.
As part of the association, Red FM will run a series of contest and fan engagement activities across different cities to connect with the hearts of all the Indians and celebrate the spirit of IPL. The fan engagement programme will include activities like KKR Fan Jersey, Fan bus, College Yatra, Band Baja Delivery and many more. Taking the excitement of fan engagement one step ahead Red FM is also initiating 'MEET & GREET' activation for its fan in Kolkata and Hyderabad were they will get an opportunity to engage and know their star cricket up-close.
Speaking on the occasion Rajat Uppal, National Marketing Head, Red FM said, "Over the last few season of IPL the audience in Hyderabad and Kolkata audience has showcased an unmatched level of enthusiasm and tremendous ownership towards their respective teams. On the other hand Rising Pune Supergiants bring on board the enthusiasm and the passion of a new team. With the help of our wide spread network across the country we hold the power to spread the magic of cricket not only in metros but also in tier II and tier III cities. Cricket association works well in strengthening the brand saliency across smaller markets."
Red FM has a 360 degree plan in place for their association with all the three team. The network will host the team players live on various radio shows in the respective cities sharing interesting nuggets from their professional and personal lives. On air property called Break maar with Boria Majumdar, the popular sports journalist and author brings alive whacky and lesser known facts about the currant IPL players. Sunrises' Insider with RJ Kabir is another interesting activity with SRH team where the segment gives away the inside stories/behind the scenes happenings of the team.
Nothing gets better than watching teams play at their home ground. To feed the cricket fervour in its listeners, Red FM is also giving out match tickets on-air regularly to listeners participating in contests and quizzes.