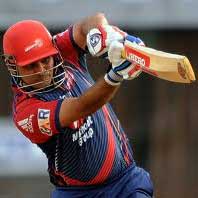 During the Indian Premier League (IPL) auction, almost every Delhi Daredevils fan thought that they could have used Rs 38 crore in much better way than the team owners did on that day. The team came in the auction with the highest budget and no one was even close to them in terms of money to be spent. But they used it all on the players who could hardly help the team reach top four, let alone winning the next edition of IPL.
The team had just let go a few players and everyone was hoping the team would get a complete facelift. Instead what we saw was completely different.
They shelled out a whopping Rs 4.2 crores on Carlos Brathwaite, who has the highest score of 36 in T20s, which was clearly the biggest disappointment for the fans. They should have gone for Martin Guptil, who had just smacked a 30 ball 93 against Sri Lanka and made mockery of their bowling. What amazed more was that they spent Rs 7 crores on Chris Morris and didn't even bid for a player like Irfan Pathan, who has much more experience of Indian conditions and was bought by Pune for a modest Rs 1 crore.
Also he wouldn't have been a headache in the team selection as only four foreign players can play in the team and Delhi already has a right-arm fast medium all-rounder in Albie Morkel, who was outstanding last season. The money spent on the young talent too impressed only a few as the team doesn't have any icon or a proved batsman of Indian origin.

The batting itself will bank heavily on the experience of JP Duminy. Thousands of fans took on the social media to show their anger. The Twitter, Facebook and Instagram showed plenty of fans unfollowing the team as they don't believe in it. However, parting ways with great players like Virender Sehwag, Gautam Gambhir, Kevin Pietersen, AB de Villiers and Yuvraj Singh over the years and with hardly any iconic players in team, the fan following is bound to decrease further.

All we can say is let's hope the predictions go wrong and the team at least makes in the top four and the team gets better players next year.
By Kapil Dabas