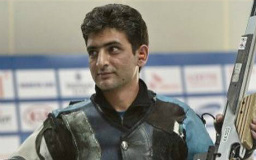 In 12th South Asian Games, 10m Air Rifle Men Individual and Team Shooting events, Indian shooters clinched Gold medals. In Mens Individual Shooting, Chain Singh of India won the Gold and Md. Sovon Choudhury of Bangladesh won Silver medal while Bronze Medal won by Gagan Narang of India on Friday.
In Team 10m Air Rifle Shooting, Indian trio- Gagan Narang, Chain Singh and Imran Hasan Khan captured Gold medal. Bangladesh's- Abdullah Hel Baki, Md. Sovon Choudhury and Anjan Kumar Singha won Silver Medal.
Sri Lankan shooter-S.M.M. Samarakoon, W.K.Y. Krishantha and SMAU Samarakoon got third place and won Bronze medal.