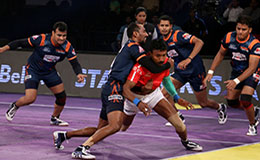 Kolkata: Executing their plans to perfection with the help of the 'silent assassin' Nitin Tomar, hosts Bengal Warriors humiliated Dabang Delhi K.C. by a whopping 34-17 margin. It was the Bengal Warriors' fourth straight win in the Season 3 of the Star Sports Pro Kabaddi.
For Dabang Delhi K.C nothing is going right this season. It was their sixth defeat in a row and even the normally high flying Kashiling Adake could not work his magic.
Bengal Warriors have jumped to the top of the table with 20 points in four matches. Their neighbours Patna Pirates are second with the same number in as many matches followed by the Telugu Titans with 17 points in six matches.
The Kolkatans stuck to their plan of not yielding points and ground to Kashiling. That he scored only one point in the first half sums up the 18-7 advantage the winners enjoyed at that stage.
Kashi as he is fondly called was thrown off court very early in the match by Bajirao Hodage which surely must have intimidated him. When he was revived rival captain Nilesh Shinde trapped him to nullify his threat.
While the defence did their job admirably, Nitin Tomar sharpened the attacks in the company of the talented Mahesh Goud. The duo hastened the all-out in the 10th minute for an 11-1 lead. Kashi scored his only point of the first session in the 13th minute. His tally of eight for the match is also misleading. The last five came in the last five minutes of play when the winners were up 30-12.
It was again a one-way traffic after the break after Delhi tried to force the pace by matching the rivals point to point till 21-11. Nitin Tomar widened the gap with his no nonsense style of raiding. He ended with eight points to his kitty. But Mahesh Goud came up with two decisive blows. The Madhya Pradesh lad is surely growing in stature. He got two points in two separate raids to force the home fans to celebrate early.
The noose was further tightened by Girish Ernak. He logged four raid points manning the left corner. Crowd favourite Jang Kun Lee also joined the party with four points. With this defeat Dabang Delhi K.C will find it extremely difficult to stage a comeback to make the top four.