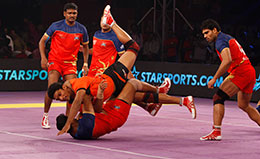 Bengaluru: U Mumba began the Bengaluru leg in triumphant fashion as they brushed aside Dabang Delhi for their second win of Season Three of Star Sports Pro Kabaddi. The undoubted star of the whole game was captain Anup Kumar, who showed his ability to take away the match from the opposition.
The first half began cautiously for the Mumbai team with the first three raids of the match being empty outings. A point secured by Anup Kumar in his trademark casual style began the free fall for Delhi. With a change in the lineup being Rishank Devadiga starting in place of Rakesh Kumar, there were thoughts about the defence being weakened. But Mohit Chhillar and his partner Surender Nada quickly dismissed those notions as they secured the first all out of the match in the 8th minute with the score 10-4 to U Mumba.
With a lead of 9 points at half time and only four men remaining for the team in orange and black, a tactical decision was made to bring in Bhupender Singh. Bhupender soon got a raid point that brought captain Anup Kumar back in. From then onwards, the U Mumba team did not look back. Kashiling Adake, Dabang Delhi's star raider barely fired tonight, with a superb tackle by Mohit and Surender effectively ending his night. A second all out was secured by U Mumba in the 33rd minute with the score reading 28-12. The mood of the match towards the end turned light as it became clear that the Delhi team had no opportunity to fight back. In the end, U Mumba won 30-17.
A happy Mohit Chhillar was asked about the mood of the players post this emphatic win. " We lost the last match and won this one, so we are all feeling very happy. Our defence was extremely strong today and it is because of that, that we were able to win by such a big margin" said the defender.
Coach E Bhaskaran was questioned about the choice of players for this match with Rishank being brought in for Rakesh. "The selection of the starting seven depends on every opponent that we play and for today, I decided that Rishank should start. It benefitted us because he played brilliantly. But Rakesh's addition has definitely made us even stronger as a unit."
Regarding whether the inclusion of Iran international Fazel Atrachali will occur towards the end of the season, much like in the previous season, the coach was firm on his approach. "He has just arrived in the team a few days ago and will need time to adjust to the playing style. He is a brilliant player and will definitely play in the next few games."
U Mumba play Patna Pirates on the 6th of February at the Sree Kanteerava Stadium in Bengaluru.