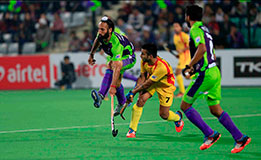 Ranchi: Defending Champions Ranchi Rays continued with their winning ways defeating Delhi Waveriders 2-1 in the ninth match of the 4th edition of the Coal India Hockey India League today. The hosts registered their second win today and first on their home ground, the Astro Turf Hockey stadium, Ranchi. Ranchi Rays with this win have 11 points to their kitty and now share the top spot in the league points table with Delhi Waveriders, Kalinga Lancers and Jaypee Punjab Warriors.

The first quarter of the match began on the defensive note with both the teams playing a very careful game. A lot of the game was played in the midfield where players showcased their ball play skills to a great extent. It was only in the second quarter when the Delhi Waveriders known for their attacking game started pressing hard on the Defending Champions. Ranchi Rays known for a very strong defensive line showed their class by denying any opportunities for conversion to the visitors.
However the Delhi Waveriders were successful in converting a penalty corner in their favour in the 27th minute through Rupinder Pal Singh giving the visitors a hard fought lead of 1-0. Ranchi Rays changed their game and pressed harder on the visitors thereafter. Their efforts saw result when they equalised in the 29th minute through a penalty corner conversion from Captain Ashley Jackson. The first half came to an end with both the sides levelled at 1-1.

The third quarter began with Ranchi Rays attacking from the very first moment and their efforts showed results when Ashley Jackson scored for the second time through a penalty corner in the 31st minute, giving the home team and defending champions a 2-1 lead in the game. The match there after saw many efforts from both the teams but none of the sides could convert any chances that came their way. The match ended with Ranchi rays winning 2-1 their first match on home turf against Delhi Waveriders.

The Coal India Goal of the Match award of INR 50,000 was presented by Shri Gopal Singh, Chairman cum Managing Director, Central Coalfield Limited to Rupinder Pal Singh of Delhi Waveriders, while Manpreet Singh from Ranchi Rays walked away with the Most Entertaining Player of the Match award. Barry Middleton from Ranchi Rays won the Man of the Match award of INR 50,000 while his team mate Sumit won the INR 25,000 Hero Emerging Player of the Match award.

The next match of the 4th Coal India Hockey India League will be played between the defending Champions Ranchi Rays and Kalinga Lancers at the Astro Turf Hockey Stadium, Ranchi on 28th January, 2016. The six team annual franchise based hockey league, the flagship event of Hockey India - the apex body governing the sport in the country and sanctioned by the International Hockey Federation (FIH) is being played across six venues in India from 18th January - 21st February 2016.