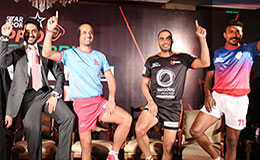 Riding on the massive success of its two seasons so far, Star Sports Pro Kabaddi is all set to storm stadiums and television screens across India with its Season 3 beginning January 30, 2016. Vizag, which hosted a leg is the inaugural season, is back on the calendar and it will host the opening leg, with home team Telugu Titans taking on current champions U Mumba. The playoffs will take place at the Indira Gandhi Indoor Stadium in New Delhi on the March 4 and 5, 2016 with the largest indoor setup in the history of the league.
This year, the reinvented sport will witness two seasons, and the upcoming season will include 26 international players from 11 nations not only from around the sub-continent but also Kenya, Japan, Oman, Thailand, Indonesia and Poland.
Star Sports Pro Kabaddi's bi-annual plans have stemmed from the huge popularity that the sport has garnered and with a high demand for the sport from fans across segments, the promoters are taking conscious efforts to make it grander. Janardan Singh Gehlot, President, International Kabaddi Federation said, "The sport must not just encourage our players, but also give countless millions who follow it a thrill. The past two seasons have proven that the country is ready to not only watch and accept more of Star Sports Pro Kabaddi, but also form loyalties toward players and teams. Season 3 will only reinforce the loyalties."

Like the last season, this time too, the national anthem's renditions promise to be a feature on each match day. These will be performed by icons from the film and music industry, sportspersons and local musicians and bands, philanthropists and people who have changed the society for the better.
The television coverage of the League, which has been stellar so far will continue to add new, engaging elements. Broadcaster and partner Star Sports has packed in cutting-edge graphics, more cameras around the playing area as well as an enhanced sound production system to capture the high-octane action. Moreover, the game will continue to reach out to significant clusters of populations through broadcast in four languages, i.e., English, Hindi, Kannada and Telugu. Star Sports Star Sports Pro Kabaddi will also be broadcasted globally to audience in over 100 countries, including United States, United Kingdom, Middle East and Latin America.
Charu Sharma, Director, Mashal Sports commented on his Kabaddi experience, "What a ride! In 2 short seasons, Star Sports Pro Kabaddi has achieved remarkable stature. It is the second most watched sport in the country. Kabaddi and its Kings are on the pedestal they belong. Renewed pride and effort among the youth is churning out new stars from every corner of India. Season 3 is catering for the need to have more Kabaddi through the year. Mashal Sports, AKFI and Star Sports will leave no stone unturned to unfurl another blockbuster show."
Sanjay Gupta, COO, Star India added, "Kabaddi is the indication of our commitment to foster a multi-sport culture in India by transforming the sport into a contemporary offering. The fact that it is now the country's second most viewed sport, second only to cricket, brings us great pride. Our sustained efforts to take the sport to new vistas through high-end production, marketing, communication and grassroots programmes have led to a deeper engagement and reach across segments. This success will help us in our goal of encouraging sporting talent and nurturing heroes."
The league has retained its core sponsors, Flipkart, Bajaj Electricals, TVS and State bank of India and also brought on board Gionee Mobiles and Fair & Lovely Men's as new sponsors this year. Star India has reinforced its commitment to Kabaddi by renewing the title sponsorship for the third season of the league.
The League, which has given the sport of Kabaddi a distinctive contemporary identity, is promoted by Mashal Sports and Star India with the backing of the Amateur Kabaddi Federation of India and International Kabaddi Federation. It will feature a total of 138 players across 8 teams.
The action begins in Vizag on January 30, 2016.