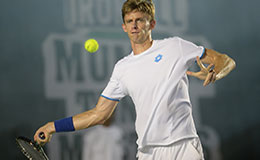 CHENNAI: World no. 12 and big-serving Kevin Anderson will be making his debut at Aircel Chennai Open 2016, scheduled to be held at the SDAT Stadium in Nungambakkam from January 4 - 10. The top-ranked South African player will start the new season in Chennai on the back of a career high top-10 ranking in 2015, and a maiden entry in the quarter-finals of the US Open 2015 after defeating world no.2 Andy Murray.

2015 has been a great season for Anderson, winning his third ATP title at the Winston-Salem hard court tournament in August, an ATP World Tour 250 event, defeating Pierre-Hugues Herbert in straight sets 6-4, 7-5. Earlier in the year, he took on world no. 1 Novak Djokovic in a grueling 5-setter at Wimbledon, winning the first two sets in what stunned the tennis world. The year then saw Anderson have a fine run at the US Open where he shocked Murray in a four-setter before losing to Stan Wawrinka in the quarter finals.
Standing tall at a staggering 6'8", Anderson will be looking to avenge his defeat with a possible clash with defending champion Wawrinka at Chennai. It is interesting to note that Anderson-Wawrinka have a 4-4 head-to-head between the two, indicating stiff competition for the crowd-favourite Wawrinka, who is on course for a hat-trick of wins at Chennai this year.

Kevin Anderson speaks on tennis and lifestyle:

On Tennis

You reached a career high top-10 ranking this year. How has the season been?

Kevin Anderson: 2015 was obviously a great year. I achieved a few of my long-standing goals, which is very rewarding. I'm still working hard to achieve some of my other goals like reaching the top 5 in the world rankings, and qualifying for the World Tour Finals. My results last year left me optimistic that my hard work will allow me to continue to improve.

At the Winston-Salem hard court tournament in August, you won your third ATP title, defeating Pierre-Hugues Herbert in straight sets 6-4, 7-5. You also broke a seven-match losing streak in finals. What has this victory taught you...?

KA: The victory taught me never to give up, but also not to put so much pressure on myself. I was actually down a set in my first match at Winston Salem, and my body was hurting too. At that moment, after coming off a bit of a rough patch, I decided to ease up a bit. By giving myself the freedom to lose, I actually began to play much better. I won that match, and as the week progressed my confidence and conviction grew. I wasn't fearful in the final, and as a result it allowed me to play much better than I have in some of my previous championship attempts. It was an eye-opening experience for me, one that has resonated deeply and is helping me to shape my mental approach going forwards.

You took on World No. 1 Novak Djokovic in a gruelling 5-setter at Wimbledon, winning the first two sets in what stunned the tennis world. What was going through your mind during the match?

KA: Obviously it was a good position to be in when I was 2 sets up, but I knew I needed to focus on my own game and not let the gravity of the moment weigh on me. Novak is a great competitor, and his will to win is practically unmatched. Although the match proved disappointing in the end, it was a great honor to hear Novak call it one of the most difficult Wimbledon matches he has ever played.

You made a maiden entry into the quarter-finals of the US Open after defeating current world no.2 Andy Murray. Tell us about your experience

KA: Reaching the quarterfinals of a Slam had been a goal of mine for a very long time. It was a great match with wonderful energy at the US Open. I felt the quality of tennis was high, so to get that win under my belt and finally reach a Grand Slam quarterfinal was an excellent hurdle to overcome. It was also special having so many of my friends and coaches there supporting me for such a momentous experience.

You also became the first South African to reach the US Open Quarters after Wayne Ferreira in 1992. What does this milestone mean to you?

KA: Wayne was a phenomenal player, and I still have a long way to go to match his tennis achievements. He was someone I really looked up to as a young South African, so it is definitely cool to think that some of the youth in SA might be holding me in the same regard. I truly hope my results will inspire a new generation of tennis players and fans in South Africa the way Wayne did; that would be really special to me.

Along with Karlovic and Isner, you are part of the 1st trio in ATP World Tour to pass 1,000 aces in a singles season! Your comments.

KA: My ace count is not a stat I keep track of during the year, so that was definitely a fun milestone to learn I had achieved. It indicates not only strong serving performance, but also a strong overall season to be playing enough matches to rack up that many serves. I'm very proud of it.

How much of an advantage does your 6'8" height give you in tennis?

KA: Height is a funny thing in tennis because it definitely helps the serve but it can hinder agility and movement. I think I have to spend a lot more time working on movement and flexibility than some of my shorter colleagues. That being said though, a tall person can improve upon those weaknesses with hard work, while a shorter person can never gain the advantages of a taller serve. In that respect, I think I'm very lucky to have such tall genes!

How would you describe your journey in the world of tennis after you turned pro in 2007?

KA: My improvement has been steady over the years. I had a couple of great results early on such as coming through qualifying to make the finals at an ATP in Las Vegas in 2008, and defeating Novak Djokovic in the 2nd round of the 2008 Miami Open. These were very encouraging and fueled my hunger to work hard and continue to improve me game. Every year I have explored new areas of my game to improve upon, and fortunately it has been rewarding. Now I'm lucky to be near the top of the game, competing with players I had idolized as a collegiate and junior player. I'm living my dream at the moment.

You are making a debut in Chennai at Aircel Chennai Open 2016. What are your thoughts on playing in India's ATP tournament?

KA: Although it is my first ATP event in India, I have played in the country during 2014. My wife and I had a blast in India the first time; the people are wonderful, the tennis fans are some of the best, and the food is excellent. I'm really excited to be playing in the Aircel Chennai Open.

You have a 4-4 head to head with Chennai Open defending champion Stan Wawrinka. How are you preparing to play against him, when he is on course for a hat-trick of wins at Chennai this year?

KA: Fortunately, the way I play tennis, I don't have to spend too much time analyzing or worrying about my opponents. I typically try to focus on my own game and I know if I do that and execute, I can beat anyone.

​Any tips for youngsters on fitness and its vital role in tennis?

KA: Fitness is crucial in tennis, especially if you plan to play at a professional level where matches can extend to 5 sets. It is important to make sure you cover all areas in your training program, such as strength, flexibility, endurance and specific tennis movement patterns. Because tennis has become such a physical game, managing your body's health by partaking in injury treatment and prevention is also critical.

​What are your goals for 2016?

KA: My biggest goal is to put myself in position to make the World Tour Finals in London at the end of 2016. Of course, improving my results along the way will help me to reach this goal such as making quarterfinals or better at Slams and Master Series events, and notching a few more tournament wins throughout the year.

What has been that one driving force in your tennis career?

KA: I've always had a strong inner drive to maximize my own potential. I've been surrounded by a number of people who have helped me along this journey and have enabled me to work hard and continue to improve.

Personal & Lifestyle

Do you always discuss sports at the dinner table since you belong to a family of sportsmen and women?

KA: No, we try to disconnect from tennis when we can. It is not always possible to keep it from coming up in conversation, but I think too much focus on tennis all the time can actually be a hindrance, everyone needs a break.

​What does adventure mean to you?

KA: The word adventure typically conjures up the idea of doing something completely outside of my daily routine.

What is the best book you've ever read?

KA: I read Lord of the Rings when I was 13 years old, and that is still my favourite book.

Your wife Kelsey has played on the women's golf team at Illinois. Has she taught you a thing or two about the game and do you play it during your free time?

KA: Kelsey and I really enjoy playing golf together when we have the time. We have found it tough to play frequently though because we are always traveling for tennis and rarely bring our golf clubs. Kelsey is great at giving me tips and advice on the golf course, but her dad is a PGA Master Professional, so he is usually my go-to if I need a lesson or a tune-up. Kelsey can still beat me, but I am pretty competitive, so we will see if that holds up in the long run. My personal golf goal is to at least match her abilities one day!