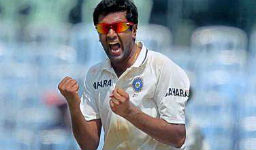 In the ICC Player Rankings for Test Bowlers, Ashwin has become the first India bowler since Bishen Bedi in 1973 to achieve the milestone of finishing the year in number-one Test position.
In fact, Bedi, an ICC Hall of Famer, is the only India bowler to ever top the Test bowling table, while Bhagwath Chandrasekhar, Kapil Dev and Anil Kumble peaked at number-two during their careers.
Ashwin has finished 2015 as the most successful bowler with 62 wickets in nine Tests, and this is reflected in his ranking after he started the year in 15th position and slowly but surely moved to the top of the chart.
Reacting to the news, Ashwin said: "Finishing the year as the number-one ranked Test bowler is like an icing on the cake that I have managed to build over the past last 12 months. I always wanted to get there one day. "There can't be a better way to finish the 2015.
"Replicating what Mr Bedi did is something I am very proud of. The former India captain was a master at his craft and I am very humbled to follow in his footsteps.