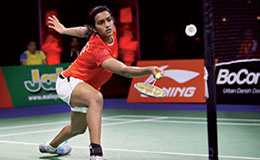 New Delhi: With the Premier Badminton all set to kick-start on 2nd January 2016, PV Sindhu is gearing up to give her best for Chennai Smashers and is looking forward to meet her team for the all important League ahead.

With names like Sony Dwi Kuncoro, Simon Santoso, Pranaav Jerry Chopra, Chris Adcock to name a few, PV Sindhu feels that her team will be able to give a tough time to the rest of the team during the League.
Speaking on the new rule of 15 points game, Sindhu said, "The League will be interesting as a few new rules that are introduced will keep us on our toes. At no point can we leave our guards down. Also a 15 point game means that we have to keep our hold on the game all throughout, not allowing the other to run away with it. So yes it will be an exciting time during the League as each day can see a new team ruling the points table."

The Premier Badminton League will start from 2nd January 2016 where six franchisees - Delhi Acers, Hyderabad Hunters, Bengaluru Top Guns, Chennai Smashers, Mumbai Rockets and Awadhe Warriors - will compete for the top honour. The opening day of the League will witness Awadhe Warriors taking on Mumbai Rockets in Mumbai.

Premier Badminton League will be telecasted LIVE on Star Sports.