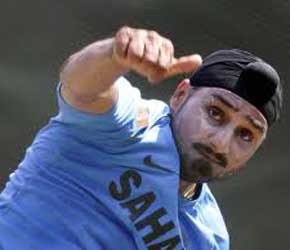 Dindgul, Tamil Nadu: In the last Ranji Trophy league match, Punjab were in the driver's seat at the close of first day's play. Batting first Punjab were bowled out for 206 in 57 overs. Punjab's innings revolved around Yuvraj Singh (49) Barinder Saran (33), Rajwinder Golu (23) and Jiwanjot Singh (29).

DT Chandrashekhar (3 for 43), Rahil Shah (2 for 68), M.Rangarajan (2 for 67) shared the spoils for Tamil Nadu.

The real twist in the tail came when Tamil Nadu started their run chase but found the guile of left arm spinner Rajwinder Golu and versatile off spinner Harbhajan Singh, who wove a web around the hapless TNCA batsmen who surrendered meekly.

Only J.Kaushik (30) put up some symbolic resistance for Tamil Nadu. Rajwinder Golu returned the flattering figures of 6 for 29 and was ably supported by Harbhajan Singh 3 for 30 and Sarabjit Ladda 1 for 5.

Punjab in their second innings were 36 for 1 at the end of the day. In all 21 wickets fell during the day for a total of 310 runs.