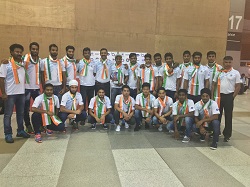 New Delhi: The Indian men's junior hockey team returned home late night Monday after finishing as the runner's up at the 5th Sultan of Johor Cup. The tournament was played at Johor Bahru, Malaysia where India lost 4-3 (2-2) to Great Britain in a nail biting penalty shootout, being levelled at two goals each after full time. India captain Harjeet Singh was adjudged as the Player of the Tournament, as India failed to defend the title for the third consecutive year.

"The finals were a close affair and I feel bad for the boys who lost after coming so close. It's unfortunate that even after our goalkeeper gave us life three times in the Penalty shootout, the boys probably somewhere gave into the pressure and the title slipped away from our reach. However I think our biggest learning from the tournament has been about our need to address our attack and midfield on certain areas and I am confident we will return victorious in our forthcoming tournaments," said Harendra Singh, coach, Indian junior men's hockey team.

"We really tried hard, and we played a good game, but Penalty Shoot Outs are really unpredictable, but this loss really hurts. We return with a fair idea of the areas where we need to work on so that we can return victorious in our next tournaments," said Harjeet Singh, Captain Indian junior men's hockey team.

When asked about him receiving the Player of the Tournament award, he said, "It feels good to be awarded the Player of the Tournament, but winning was the most important, and while this award adds to my confidence, a loss in the final still leaves a lot to desire within the team."

The Indian colts who earlier topped the pool standings in the league matches with 13 points, had earlier also lost to Great Britain. Sumit Kumar and Harmanpreet Singh with three goals each were the top scorers for India in the tournament.