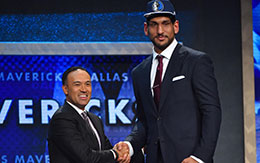 Mumbai: Satnam Singh Bhamara, a 19-year-old from the small village of Ballo Ke in Punjab, became the first Indian-born player ever selected in the NBA Draft. The Dallas Mavericks chose the 7-foot-2, 290-pound center with the 52nd overall pick in the 60-pick draft.

The historic news comes less than three months after Canadian-born 22-year-old Sim Bhullar became the first player of Indian descent to sign an NBA contract and appear in an NBA game.

Playing for IMG Academy post-graduate team, Satnam made impact averaging 9.2 points, 8.4 rebounds and 2.2 blocks. "I feel good," he said. "I feel excited I am now with a team that I can get a lot better with the next couple years."
Dallas Mavericks General Manager Donnie Nelson said his team is excited to have Satnam on board. "He is pretty skilled, he has good hands, he is a good passer, he's a project we are looking forward to work with." Nelson also said that Satnam would play with the team in the Summer League and then sign a D-League contract with Texas Legends to help him develop his game.

At 14, Satnam left India for the IMG Academy in Bradenton, Fla., as part of a scholarship program with 28 other Indian student-athletes. At the age of 16, he became the youngest player to represent India at the 26th Asian Basketball Championship at Wuhan in China in 2011.

He now joins the likes of German legend and ten-time All Star player Dirk Nowitzki and Rajon Rondo, a four-time All-Star player. Since their inaugural 1980-81 season, The Dallas Mavericks have won three division titles (1987, 2007, 2010), two conference championships (2006, 2011), and one NBA Championship (2011).