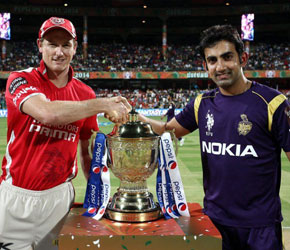 The Indian Premier League has truly lived upto its expectations as the last couple of encounters have been enthralling, least to say. There have more than 1000 runs scored in the last three or four matches and the ball hitting the stumps have been a rare sight as the bowlers have been taken for plenty. The Kolkata Knight Riders came out on top in the final against the Kings Eleven Punjab and at the end of the match it can be easily said that cricket was the real winner in yesterday's final.
Here is a list of hits and flops of the final match played between Kolkata Knight Riders and Kings Eleven Punjab:
Hits of the final

Wridhiman Saha: Saha has always been a underated player and his contribution with the bat in hand always gets unnoticed, not to mention his glovework behind the stumps which is a thankless job. Saha raised his game in the final as he became the only player in the history of IPL to have scored a century in the final. Hopefully this knock will make people realize how good a player he can be in all the three formats of the game.
Manish Pandey: Pandey has had a roller coaster ride in this year's IPL but rose to the occasion in the final as he made a mockery of the Punjab attack by making 94 off 50 balls which kept KKR in the hunt as they went on to win their second title in the history of IPL.

Shakib Al Hassan: Shakib has been a real find for KKR this season as he has done the job with the bat and ball in hand. In a high scoring match in the final where the team conceded almost 10 runs per over Shakib finished his spell of 4 overs by conceding only 26 runs. He might not have picked up a wicket but helped to keep the target within reach.

Akshar Patel: Akshar Patel has not wasted any opportunities as he became the Emerging Player of the year which is enough for us to understand what he has done with the ball and bat in hand. Patel kept his team in the match when everybody else was getting hit for runs and ended with figures of none for 21 which is nothing less than exceptional in a match where the average runs given per over is 10.

Flops of the final

Glenn Maxwell: Glenn Maxwell started the tournament with a bang by exploding in almost all the matches in the first half of the tournament but failed to keep up the momentum as he lost his form at the business end of the league. He did not trouble the scorers in the final and got out without getting off the mark.

Virender Sehwag: After Virender Sehwag's brilliant century in the second qualifier against Chennai Super Kings a lot was expected from his bat but he failed to deliver in the final as he tried to go for the pull and ended up mistiming it straight to Gautam Gambhir who stationed himself at mid-off.

Robin Uthappa: The purple cap holder Robin Uthappa has looked in ominous form all throughout the tournament and never looked like getting out till the time he was there at the crease. Unfortunately the final was not destined to be his day as he was dismissed by Mitchel Johnson very early in the innings.

Sunil Narine: It is a rare sight when you see Sunil Narine getting picked for runs as was the case in the final where Wridhiman Saha and Manan Vohra took the attack to him which forced him to err in length as the duo took full advantage of the situation.

By Sajala Kumar Patra
Indian Sports News Network