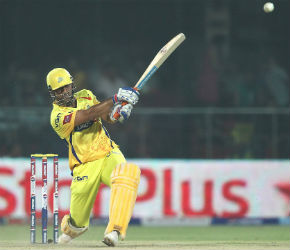 Fantastic batting from Mahendra Singh Dhoni coupled wit some brilliant bowling from Mohit Sharma helped Chennai Super Kings register a thumping win over Pune Warriors India at Subrata Roy Sahara Stadium, Pune.

Here we bring to you the hits and flops from the match between Chennai Super Kings (CSK) and Pune Warriors India (PWI).
HITS
Suresh Raina: Raina was once again stupendous with the bat and batted till the end. He was looking in good knick as he kept scoring the boundaries. He ended up scoring 63 runs off 50 balls, iincluding five fours and one six.
MS Dhoni: Dhoni played a samshing innings of 45 runs off just 16 balls. He picked up the weak link in Ashok Dinda and smacked him all over the park. He was innovative with his shots and play paddle sweep to Dinda. He was declared Man-of-the-Match for his stunning performance.
Bhuvneshwar Kumar: Bhuvneshwar was brilliant with the ball as well as bat. Though he didn't pick up any wicket, he gave away just 24 runs in his bowling. He batted beautifully to score a quick 24 runs to save his side from a shameful defeat.
Steve Smith: Smith was once again sensational with the bat as he scored 35 runs off 39 balls. He ran out of partners but still kept rotating the strike. He scored three fours in his knock and got out to Ravindra Jadeja.
S Badrinath: Badrinath has been the cornerstone of CSK's innings and played really well against PWI as he scored 34 runs off 31 balls. He gave his side a much needed stability after they lost the opening duo. His ability to keep a price on his wicket makes him a very special player for CSK.
Mohit Sharma: Sharma bowled exceptionally well as he picked up three wickets in quick succession and sealed the victory for CSK in first six overs itself. He has that habit of nagging the batsmen with his off-stump line which worked out once again.
Dwayne Bravo: Bravo was in great touch with the ball as he gave away just 18 runs in his four overs and got the wicket of Rahul Sharma. His variations had been his strength and with time and again he has mastered it really well.

FLOPS
Yuvraj Singh: Yuvraj was looking in all sorts of hurry. He started off with a four and was looking to go for a cut shot when the ball took the edge of his bat and went in to Dhoni's gloves. He got out after scoring just five runs. He has not performed well in pressure situations and with another below par performance he has again disappointed his fans.
Mike Hussey: Hussey didn't score much against CSK and was looking a bit rusty. He took eight balls to score five runs out of which he smashed one for four. He has been in good touch this season and a power-packed performance will be expected from him in next game.
Robin Uthappa: Uthappa took the chance of stealing a single and that too against Raina who is best in the business. Raina got him out when he was at the score of 10 runs and could have been dangerous if he would have stayed at the crease for two or three overs.
Aaron Finch: Finch once again turned out to be a disappointment in a home game as he scored just 15 runs. He was expected to come hard on bowlers which he did up to a certain extent by getting couple of fours and a six, but he lost his wicket to Mohit Sharma.
Ashok Dinda: Dinda was smothered by Dhoni in his final two overs. He was bowling well till Dhoni started hitting him for fours and sixes. He gave away 41 runs in his four overs which turned out to be the biggest difference between the two sides.
Ravichandran Ashwin: Ashwin gave away 20 runs in his two overs and turned out to be the most expensive bowler for CSK. He is a strike bowler and had done very well in the past few games. A sudden dip in bowling especially after they lost quick wickets was unacceptable from someone like him.
By Amit Chopra
Indian Sports News Network