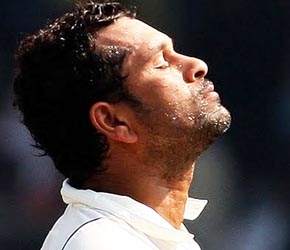 The fourth and the final Test match between India and England being played at Nagpur ended in a draw. England won the series 2-1 and ended their 28 years old draught. Looking back at the series it will be fair to say that England were the better side out of the two and deserved to win the match.

Indian captain Mahendra Singh Dhoni after the match said that the better team won. He also noted the fact that England was well balanced and won precious moments of the series.
No one could have predicted the result after what happened in Ahmedabad. But the English side showed why they are such a force in Test cricket. They played some incredible cricket to win the next two Tests of the series. Even in this match, England played very well to secure a draw and ensured that there was no coming back for the home team.

So, the embarrassment continues for MS Dhoni and his men. Indian team have to go under a reality check after this result because the team looks to have more problems than answers.

Let's now have a look at some of the hits and flops from both teams in the Nagpur Test:

India:

Hits:

Virat Kohli: Kohli was struggling in the series and questions were asked about his temperament for the longer version of the game. Kohli needed a big innings and that's exactly what he came up with. He came at a time when India lost two quick wickets. Soon he lost Gambhir at the other end but that had no effect on him. He played a brilliant knock and added crucial runs with his skipper. Kohli scored a century under most testing conditions and it was his longest innings in terms of ball faced.

MS Dhoni with the bat: Dhoni was under tremendous pressure before the Test started and needed runs desperately. He came up with a solid 99 and that would keep his critics who doubted his place in the team at bay for some time. Like Kohli it was Dhoni's longest innings in terms of time spent on the crease. He was unlucky not to have got to a century.
Flops:
Sachin Tendulkar: The master failed again! Sachin was in desperate needs of some runs but got out to a brilliant ball. Sachin has never been under so much pressure and it seems to have a massive influence on his batting. Sachin once again looked circumspect at the crease and that cost him his wicket in the end.

R Ashwin: He has been one of the biggest disappointments of the series for India with the ball. Ashwin's job is to pick wickets and he completely failed at that. He took only one wicket in the first innings and was very lucky to get two wickets in the second innings. He was brilliant with the bat in the series but he is in the team for his bowling.

MS Dhoni as a captain: Dhoni was impressive in England's first innings and handled his resources pretty well. He came up with a brilliant innings with the bat, but failed as a captain at the most crucial time. India's only chance of winnings was to get England out in the second innings. It is true that the pitch had nothing but Dhoni once again waited for something to happen rather than trying to make things happen. Indian team's approach in the first hour's play on day four surprised everyone and Dhoni will have to take the blame for the humiliating series loss.

England:

Hits:

Jonathan Trott: Trott has been wonderful for England in the recent time, but struggled in the series. He played a good innings in Kolkata but everyone expected a big innings from him. Trott came up with a series winning hundred for his team. He got out after getting a start in the first innings but ensured that he crossed the three figure mark in the second.

Joe Root: It was a brave move from the team management to bring in a debutant opener to play in the middle-order in what was a very important game for England. Root had a massive test and he cleared it with flying colors. His partnership with Matt Prior in the first innings took England out from a losing position and he can be very proud of his performance.

Matt Prior: His contributions might go unnoticed but he was a game changer for England in this series. Prior has a habit of scoring important runs and he did that in this match. His fifty in the first innings was very important and the confidence he showed certainly helped the youngster at the other end.

James Anderson: It was a treat to watch Anderson bowl in the past couple of matches. Anderson had a bad first Test but came back strongly after that. His spell with the old ball when he picked the wickets of Sachin and Gambhir was phenomenal. Indian captain went to the extent of saying that Anderson was the main difference between the two sides.

Ian Bell: Before the second innings of this Test, Bell looked completely out of sorts. But like every good player he delivered when it was most important. Along with Trott he put up a series winning partnership. He made a brilliant 116 not out.

By Indian Sports News Network