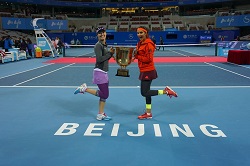 Beijing, China: Continuing with their incredible winning streak, India's Sania Mirza along with her Swiss partner got the better of Hao-Ching and Yung-Jan to win the China Open on Saturday, which was their fourth WTA doubles title in a row - and eighth of the year.

The No.1 seed Indo-Swiss pair did have a tough time in the first hour as the No.6-seeded Chan sisters rallied from 5-2 down in a tie-break - and fought off two set points, first at 6-5 then again at 8-7 - to squeak out the 67-minute first set.

But Hingis and Mirza came back strong, winning 14 points in a row to take the second set in just 25 minutes and clinching victory after a match tie-break, 6-7(9), 6-1, 10-8.

With this win, they now have eight WTA doubles titles on the year at Indian Wells, Miami, Charleston, Wimbledon, the US Open, Guangzhou, Wuhan and Beijing. The last four - the US Open, Guangzhou, Wuhan and Beijing - have come in what is now a four-tournament, 18-match winning streak.

They're the first team to win eight WTA doubles titles together in a year since Sara Errani and Roberta Vinci won eight in 2012. The last team to win more was Cara Black and Liezel Huber's 10 in 2008.