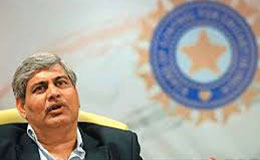 Edinburgh: The 2016 ICC Annual Conference concluded on Saturday in Edinburgh with the ICC, IDI and IBC Board meetings, which were held under the chairmanship of Shashank Manohar.
Following a presentation by the Commonwealth Games Federation, the Board has decided to submit an application for a women's cricket event to be included in the 2022 Commonwealth Games in Durban. As well as creating an opportunity to showcase the remarkable progress of female cricket on a global stage, this will provide top female cricketers with an opportunity to feature in an additional high profile competition.

The ICC will now work closely with the Commonwealth Games Federation in order to ensure cricket's inclusion on the program and to determine the specific tournament structure and qualification process that will be applied.

Manohar said: "The Board has taken a strategic decision to support the inclusion of women's cricket in the 2022 Commonwealth Games as it will enhance the profile of the sport and create additional exposure and experiences for female cricketers, as well as opportunities to engage with the Commonwealth Games on important social justice issues and initiatives."

There will be further discussions on cricket's potential participation in the Olympic Games following further meetings with the International Olympic Committee later in the year.

Significant progress made in the ongoing review of the ICC's governance structure
The Board noted with satisfaction that significant and positive progress had been made by the working group established to oversee a complete review of the 2014 resolutions and constitutional changes.

The Board was informed that a draft of a new constitution will be prepared in the coming weeks for consideration by the Board at its October meetings.

ICC Chairman Shashank Manohar said: "We have undertaken the responsibility of reviewing the 2014 resolutions and constitutional changes in their entirety as we are committed to following best practice principles of good governance to build, improve and enhance the image and reputation of the ICC by putting in place systems and processes which are fair, transparent and merit-based.

"I am pleased with the work that has been done to date and during this set of meetings and we are looking forward to presenting the amended constitution to the Board for its consideration at the next meeting."

International cricket structures
In parallel to the discussions around governance structures, the ICC Chief Executives' Committee held constructive discussions about the structure of international cricket and the establishment of new competitions in all three formats. Members were updated on the progress of the project, and all understood that more detail is needed before any final decisions can be made.

It was proposed that a workshop be scheduled in early September in Dubai to facilitate discussion between Members on this project, and to work through some of this detail.

ICC Chief Executive David Richardson said: "This is an unprecedented opportunity for our sport to introduce a package of bilateral international cricket structures, which are merit and performance based, have context, enhance the value of bilateral international cricket and create a highly competitive environment for cricketers so they can provide more entertainment to spectators.

"The Member countries acknowledge and recognise the importance of international cricket across all its three formats and are committed to ensuring that it continues to grow in relevance and value for cricket fans around the world.

"This is a complex issue on many levels but I am heartened by the progress that has been made to date and during these meetings and look forward to the next meeting in Dubai."