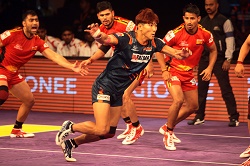 Mumbai: Rohit Kumar proved why he is one of the best players in the league to help his team record a victory in their first match of the season.
In a tightly fought contest, the Bengaluru Bulls edged out the Bengal Warriors 24-23 in the third game of the fourth season of Star Sports Pro Kabaddi League. It was a battle of defenses as both teams put in a solid performance but it was the Bulls who kept their cool and emerged victorious. For long spells in the game, it looked like the Warriors would come out on top but the Bulls' star man Rohit Kumar put in a stellar performance in the last five minutes to stage a remarkable comeback.
In the first half, Rohit Kumar was kept quiet by the Warriors defense and he failed to score a single point in the first 10 minutes. It looked like a struggle for the raiders and neither team made a single do-or-die raid in the first 10 minutes. Rohit Kumar finally scored his first point with his sixth raid.
However, it was Jang Kun Lee who lifted the Warriors as he came on the 17th minute. Lee came up with a brilliant super raid in the 19th minute to give the Warriors a single point lead as the half ended with the score at 11-10. Kumar showed glimpses of his brilliance and he scored vital two points with a raid in the 18th minute.
The Bulls' defender Surendra Nada inflicted a super tackle to level the game at 13-13 at the start of the second half. Lee, however, was in top form and scored with another raid as Nada failed with a double thigh hold. But Bulls responded immediately with Deepak Kumar Dahiya who not only scored two pointsbut also put Kun Lee and Warriors' captainNilesh Shinde on the bench to tie the score at 15-15.
The first all out of the game came in the 13th minute of the second half and with it the Warriors stretched their lead to six points with the score 21-15. But Bengal Warriors made two tactical errors in the last five minutes and Rohit Kumar capitalized on them. With the score 23-21 in favour of the Warriors, the Bulls picked the perfect time to inflict their first all out and get a slender lead of one point. The Bulls hung on in the last minute to pull off a stunning victory in their opening game.