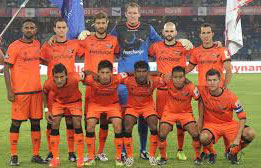 New Delhi: Delhi Dynamos F.C. has retained the services of their dynamic Spanish Goalkeeper Toni Doblas for the third edition of the ISL.
Toni Doblas was quoted on renewing his contract with the Dynamos as, "I am excited to be back with Delhi Dynamos F.C. I hope to play a lot more games this season and keep as many clean sheets as possible. I am fit and ready to start every game."
Doblas did a great job of guarding the Delhi Dynamos fortress during season 2 of the Hero ISL. He kept 3 clean sheets in his 12 appearances. Despite injury concerns and niggles, Doblas managed to do a great job of staying match fit and living up to the high expectations of Head Coach Roberto Carlos and the club.

He was not only a great teammate to the other goalkeepers on the squad but also mentored DDFC's young star goalkeeper Sanjiban Ghosh. Sanjiban and Doblas will be sharing the locker-room this season as well, and Ghosh is thrilled. "It was great to have Toni on the team. I learnt a lot from his experiences and that has helped me grow as a goalkeeper" said Sanjiban.
The club is thrilled to have Toni back in the Dynamos squad. Prashant Agarwal, President DDFC, said "We are extremely happy that Toni has decided to be a part of Delhi Dynamos this season too. He is a terrific footballer and an asset to us. We have great expectations from him and hope to see him as one of our leaders"

Welcome back Toni Doblas!
Season 2015 statistics-
In his 12 appearances for the Dynamos in season 2015 of the ISL, made 45 saves, 119 catchesand 3 clean-sheets.
His saving accuracy was recorded at 75%.