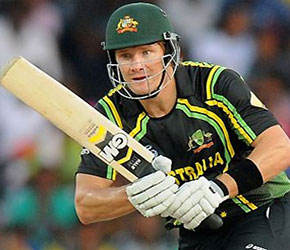 Hailed as Wato, Shane Robert Watson is one of the finest all-rounder of Australian cricket team. Born on June 17, 1981, he is a right-handed batsman and a right-handed fast-medium swing bowler. The currently the world No. 1 all-rounder in T20 International format announced his retirement after the ongoing T20 World Cup tournament.
He made his debut for the Australian cricket team in 2002, playing his first One Day International against South Africa. That was the inception of his contribution to cricket Australia. He is having the highest One Day International (ODI) batting average of all Australian opening batsmen who have scored over 1000 runs. He is possessing the highest ODI score and hitting most sixes in an innings among the Australian players.
Now let's have a look at his classy T20I achievements. He possesses the highest Twenty20 International (T20I) strike rate among all opening batsmen who have played more than 30 matches. He stands out as the only player who has posted a half-century and has taken three wickets in the same match for three times in T20I. Aussies boast of Wato to be the maiden player to score a century and have taken four wickets in an innings in T20I. He has the highest rating for T20I All-Rounder Rankings with a rating of 557, which is 116 points higher than the second best. The world has witnessed not a second player other than him who has managed to held number 1 position for both batting and all-rounder rankings in T20I.
He was awarded the Allan Border Medal in 2010 and 2011. He has bagged 6 awards in the Tests, ODI & T20I "Player of the Year" awards category, which is the most by any player. He also emerged as the only player to be "Player of the Year" in all formats.
Being a senior member of the team he always showed his leadership capabilities by guiding and encouraging younger players. Though his glorious career now seeks rest, his glories will ever reign over the Aussies' dressing room. His fabulous fours, splendid sixes and master strokes will be missed not only by the Aussies, but by the entire world of cricket!