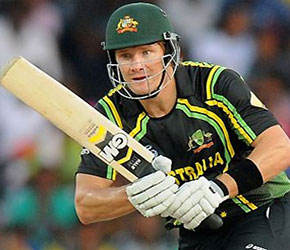 Cricket Australia chief executive James Sutherland has congratulated Shane Watson for his contribution to the game during his playing career.
Mr Sutherland praised Watson, 34, for his dedication and commitment to Australian cricket after the all-rounder announced the current ICC World T20 in India would be the end of his 14-year international career.
The big-hitting all-rounder will continue to play domestic Twenty20 tournaments including in the Big Bash League for the Sydney Thunder.
Throughout his career, he achieved the remarkable feat of becoming Australia's most successful Test and one-day batting all-rounder after Steve Waugh.
No other Australians combined as many runs and wickets in either format.
Shane Watson career highlights include:
Australia's 44th Test captain;
Two Allan Border Medals;
Three World Cups, including tournament victories in 2007 and 2015;
All six World T20s, including player of the tournament in 2012; and
17 one-day man of the match awards including four man of the series awards.
"Shane should be proud of his contribution to Australian cricket," Mr Sutherland said.
"At his best, he was a devastating batsman and skilful swing and seam bowler who thrilled crowds the world over. And to his enormous credit he is the only Australian batsman to have scored centuries in all three forms of the game.
"As a senior member of the team he always showed his leadership capabilities by guiding and encouraging younger players. He is also one of a very select group to lead our country in Test cricket.
"To be bracketed with Steve Waugh as Australia's most prolific batting all-rounder in Test and one-day cricket is a very significant statement about his international career.
"He also goes into the history books having won two Allan Border Medals as the country's cricketer of the year.
"I am sure Australian cricket fans join us in wishing him well in his retirement from international cricket and look forward to him continuing to play in the Big Bash League with the Sydney Thunder."
Most prolific Australian batting all-rounders
Name Tests Runs Wickets
Steve Waugh 168 10,927 92
Shane Watson 59 3731 75
Name ODIs Runs Wickets
Steve Waugh 325 7569 195
Shane Watson 190 5757 168

Shane Watson career statistics
Matches Runs HS Ave Wkts Ave BB
Tests 59 3731 176 35.19 75 33.68 6-33
ODIs 168 5757 185* 40.54 168 31.79 4-36
T20Is+ 56 1400 124* 28.00 46 24.71 4-15
First Class 137 9451 203* 42.57 210 29.97 7-69
*Denotes not out
+Matches to 24 March 2016