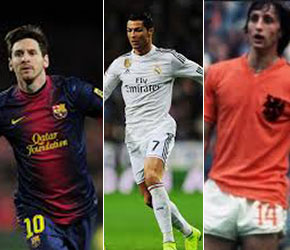 There are many who say Cristiano Ronaldo is not the best player. He is below Lionel Messi. But for his fans, he is the best and among the all-time best. He is a great player with great attributes. You may be his hater or fan, but there are many things you can learn from this legend.
Ronaldo worked on his skills. He trained his body to become a superior specimen and honing his football skills to perfection with endless hours of training. If you want to stand on world celebrity platform, then you have to make sacrifices, work hard, never give up. You've to be willing to do things that others won't, go the extra mile. Only then will you be the best at what you do.
Find your passion
Each one of us is endowed with a talent and Cristiano Ronaldo's was playing football. Even at a very early age, his passion for football was already very evident. He lived and breathed football, often skipping meals just to have time to play the sport. During times when he was supposed to be doing his homework, he would sneak out a window with a ball and head out to the football field.
Passion for what we do certainly matters. Some even consider it as an investment in a chosen career. Although we might not go to the extent of skipping meals like Ronaldo did, passion certainly allows us to bring more of "us" into an endeavor. It makes us more creative, energized, confident and persistent – qualities that contribute positively to the path of success.
Make sacrifices
He left his home in Portugal as a young boy to play football in Manchester when he was just a young teenager. He probably works out harder than any footballer in the world to be where he is. Unlike many of his teammates, he never drinks or smokes, never ever, because he knows the damage alcohol can do to the body of an athlete. He barely ever indulges himself, living the life of an extremely highly paid prisoner so that his body remains in prime condition and it shows. In fact, his former teammate Wayne Rooney was believed to have been more naturally talented of the two and actually outshone him in the initial years and while Wayne Rooney's still world class, he simply can't hold a candle to Ronaldo because he couldn't apply himself to his art to the same level. Life often gives us lots of options. Hit the gym or have a beer while watching telly? Work on the report tomorrow or join the gang for a night out? The point is you need to take a call on what you're willing to do to achieve success because being the best requires sacrifices. You can't be a dilettante and expect to be the best.
Never gives up
Soccer greatness was not handed to Cristiano Ronaldo on a silver platter. In fact, if we are to look at his childhood, we would say that his opportunities were very limited. His family was poor and his father was a drunkard. As a result, his mother had to keep two jobs just to feed the family.
Despite these, Ronaldo never did let go of his dreams of playing football. He did not even let his father's heavy drinking sway him. Instead, it disciplined him to never touch alcohol in his life. His struggles did not end even after he turned pro. His father died and his mother was diagnosed with breast cancer. When he was with the English football club, Manchester United, his commitment was put under question when he was about to transfer to Real Madrid, another football club based in Spain. Nevertheless, Ronaldo refused to be thrown off course by his situation and never wavered on his focus as a football player. Instead, he looked upon the challenges as stepping stones to be the best.
Stay one step ahead of your competitors
Over the years, Ronaldo has adopted his game so that he can score goals from anywhere in the opposition's half. Ronaldo trains rigorously so that he is always one step ahead of his opponents.
He initially was the king of step-overs. Then, when the opposition started to figure out his moves, he improved his game in different areas.
How do you stay ahead of the game? What is your strategy to keep improving yourself so that your competitors will not be able to predict your next moves?
Keep on improving
And the scariest part about Ronaldo is you get the impression that he's not done. That he's actually going to get better and better. Born in the same generation as Messi, these two stalwarts have simply redefined the game with goal-scoring stats that are just unfathomable. They've pushed the bar so high that both are now talked off as the greatest to ever play the game (though they still have to win cups for their countries). Ronaldo realizes that it's not over. 'Ronaldo improves every day. Look at his numbers three years ago and you think, 'It's impossible he can do better,' and then you look at him this year and he's done better again. He's always improving and because of that, he is the best.' No matter whereyou've reached in life, there's always the possibility to go one better.
At 28, you get the feeling that despite all the accolades and the personal and team awards, the mythical Cristiano Ronaldo story isn't over by any stretch of the imagination and all of us can hope that neither is ours, because if one human being can do it, then others are capable of it.