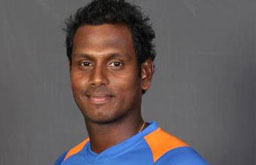 New Delhi: With ICC T20 World Cup already in progress, the event will provide a platform for some to rise on the occasion while some others may find it tough to get going in the tournament. It will create news starts, while some might go into oblivion with their dismal performance.

However, this tournament will be testing time for some of the biggest stars of the game, including Angelo Mathews, Shahid Afridi and Corey Anderson as they are coming into this event under pressure to perform.


Angelo Mathews: With the Lankan stalwarts, including Mahela Jayawardena, Kumar Sangakarra having announced their retirement from the game, Angelo Mathews needs to prove that he is the right guy to build the new generation of Sri Lankan cricketers .
Sri Lanka are enduring a torrid time at the moment. They won a single ODI on their lengthy tour of New Zealand and were eliminated from the Asia Cup with one group game still to play, which they eventually. To it, Mathews too has struggled with his form as he does not seem to be the same player who was capable of sending the bowlers to leather hunt a few years ago. However, the captain is just 28 years old and has plenty of time left to deliver for his country.
But can he feel the void left by the two greats -- only time will tell.
Shahid Afridi: Always under pressure, the high-profile Pakistan T20 captain needs to prove that he still has the hunger for the international game. With pakistan's dismal performance in the recently concluded Asia Cup, Shahid Afridi has found himself under pressure from the media and at an age of 36, it remains to be seen how many more years can this entertainer still play for his country.
Corey Anderson: He needs to prove that his 47-ball 131wasn't a fluke. Blasting onto the international scene courtesy of a sensational 47-ball 131 in an ODI against the West Indies, Corey Anderson was marked as a potential cricketing superstar. But that was 2 years ago.
Since then he has been in and out. With injuries and a huge IPL contract with the Mumbai Indians and such ups and downs, he still is left to prove himself that he is worth of a place in the New Zealand XI. Maybe he can change that during this World Cup?