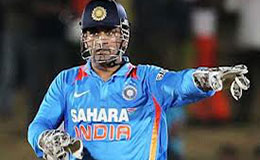 New Delhi: The Asia Cup 2016 commenced with a clash between Bangladesh and India and will end with the same. Bangladesh would look to turn the fortune their way in order to claim the Asia Cup in their country, while India, who are having a phenomenal run, unbeaten throughout the competition, would love to continue the momentum till the very end.


India have an upper hand going into this clash, as they have performed well in all departments throughout this tournament. Rohit Sharma and Virat Kohli have been exceptional with the bat, whereas Hardik Pandya and Ashish Nehra have been good with the ball. Rohit and Virat, both, have scored a half century each, with Rohit's highest at 83 and Virat Kohli's at 56 (not out). However Virat (3 innings) has a higher average at 56.50 against Rohit (4 innings) at 34.25.

The bowlers have had an excellent run in the tournament as well, with Pandya's best figures at 3-8 (against Pakistan) and Nehra's at 3-25 (against Bangladesh). Hardik Pandya has taken the most wickets for India in the tournament with seven ahead of both Nehra and Bumrah at five wickets wach. The Indian side has also had a few sparks from Yuvraj Singh, who performed exceptionally well against the Sri Lankan side, scoring 35 runs of just 18 balls.

Bangladesh have also had a fairly good run in the tournament so far. The tournament having been played on home turf provides them with a slight advantage, as they have the crowd right behind them. They have had two outstanding performers this tournament with Sabbir Rahman scoring 144 runs in 4 innings with an average of 36 and is only 5 runs short of Sri Lanka's Dinesh Chandimal, who is the top scorer of the tournament so far. He is also second on the chart of highest runs scored in a single game having scored 80, falling short of Rohit Sharma's 83.

Their bowlers have also been exceptional, as Al-Amin Hossain has taken the most wickets (10) in the tournament, including three 3-wicket hauls that came against India, Pakistan and Sri Lanka. Shakib Al Hasan and Mashrafe Mortaza have also been good with the ball, having taken five wickets each in the tournament.

The game looks to provide a thrilling finish to the tournament. The two best performing teams have made it to the final with promising results and tireless effort. Come Sunday may the best team win!