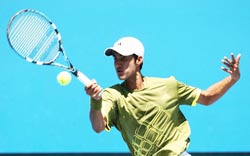 New Delhi: Team ONGC won the men's Team Championship title of the PSPB Inter Unit Tennis tournament hosted by EIL at the RK Khanna Tennis Complex when they beat GAIL with a score of 2-0.
In the first singles of the men's Team Championship, top ranked Indian Yuki Bhambri (ONGC), beat an error prone Saketh Myneni (GAIL) quite comfortably 6-4, 6-2. The second singles between Vishnu Vardhan (ONGC) and Vijay Sunder Prashant (GAIL) was a close affair. Big serving Vishnu, who played a long match on Tuesday as well, won the first set 6-4 before losing the second set 3-6 to a resurgent Vijay. However Vijay was unable to hold his serve in the final game and lost the third set. Vishnu thus won 6-4, 3-6, 6-4 to ensure ONGC's victory.
The veterans team championship between the teams of BPCL and OIL was a closely contested event with both teams winning one singles match each. The deciding doubles rubber was won by BPCL and they were declared the winners with the score reading (2-1) in their favor.
The women's team championship was played on the round robin format and today's team matches were between IOCL and ONGC.
ONGC won the first singles match when Ankita Raina (ONGC) beat Nidi Chelumala (IOCL) 7-6, 6-2. Prarthana Thumre(IOCL) then beat talented junior Karman Kaur Thandee(ONGC) 6-1, 6-4 to level the tie 1-1. In the deciding doubles rubber the ONGC pair of Ankita Raina and Karman Kaur Thandee faced stiff resistance from the experienced IOCL pair of Rushmi Chakraborty and Prarthana Thumre before winning 6-1, 4-6, 6-4.
The ONGC team was then declared the winners of the women's team championship on basis of maximum tie wins with GAIL finishing runner's up and team IOCL finishing third.
The next two days will see the singles events in Men's, Women's and Veteran categories and the matches are scheduled to start at 9 am.