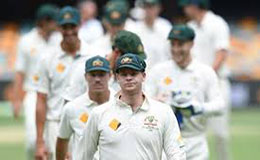 Second-ranked Australia goes head to head with New Zealand in a two-Test series in Wellington on Friday aware that it has to win the series to seal the number-one Test spot on the MRF Tyres ICC Test Rankings table at the annual cut-off date.

The annual cut-off date is 1 April, but since this is the final Test series before focus shifts to the ICC World Twenty20 India 2016, the decision on the best Test side will be confirmed by 24 Feb when the second Test concludes in Christchurch.
This, in turn, means along with the number-one position, the prestigious ICC Test Championship mace as well as cash prize of $1 million is up for grabs.

The ICC Board, during its October 2015 meetings, had improved the incentives for Test performances by increasing the level of Test ranking prize money, to be allocated as following:

No.1 ranked Test side - $1million
No.2 ranked Test side - $500K
No.3 ranked Test side - $200K
No.4 ranked Test side - $100K
TOTAL - $1.8million

India currently occupies the number-one Test position on 110 points, but Australia is just one point behind. If Australia wins the series 1-0, then it will finish on 111 points, while a 2-0 win will put it on 112 points. A 1-1 draw will mean Australia will join South Africa on 109 points, but will be ranked third when the ratings are calculated beyond the decimal point.

On the other side of the coin, if New Zealand wins the series 1-0, then Australia will drop to third on 106 points and fourth on 105 points if the home side wins both Tests.

For New Zealand, the incentive is to gain a place and move ahead of England in fifth position. But to make it happen, it will have to win both Tests. It will drop to 96 points but will retain its sixth position if Australia wins both the matches.
Series schedule:
12-16 Feb – 1st Test, Wellington
20-24 Feb – 2nd Test, Christchurch

MRF Tyres ICC Test Championship (as of 10 February, before the start of New Zealand-Australia series)

RANK TEAM POINTS
1 India 110
2 Australia 109
3 South Africa 109
4 Pakistan 106
5 England 102
6 New Zealand 99
7 Sri Lanka 89
8 West Indies 76
9 Bangladesh 47
10 Zimbabwe 05