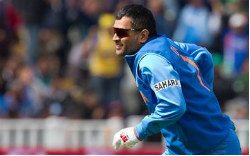 As the Indian cricket team arrive in Ranchi to play their second T20 match against Sri Lanka, the city looks all geared up to welcome its hero and his brigade in what might prove to be the last T20 match last appearance of Mahendra Singh Dhoni for India at his home ground.
"Looking to avenge the defeat suffered at Pune, Dhoni's brigade would also like its unbeaten run at the Jharkhand State Cricket Association Stadium to continue. A packed house of 40,000 spectators is set to back their 'hero' to play a decisive role in the much-anticipated series-levelling triumph. Indeed, Dhoni, in his playing gear, is a rare sight in this part of the world," says a report in the Hindu.

Meanwhile, according to a report in The Indian Express, Sunil Gavaskar said the defeat to a depleted Sri Lanka in the first T20 international was a good wake-up call for the Indians who said the batsmen should have shown more respect given that the Lankan pace trio was an unknown proposition.

"If you see India had lost two wickets in the first over and then Shikhar Dhawan got out trying to play a hook for a six when in the same over we have had Suresh Raina hitting a six and a boundary, so there were enough runs scored in that over. "And what India really need to think was the fact that this new attack of Sri Lanka they haven't really seen it. You might see videos but when you are playing them for the first time it's just that little bit difficult," he said.

"These guys were bowling well, pitching the ball on a good length, getting the ball to move around. So, maybe a little bit of caution was called for particularly after India lost their first two wickets in the first over and maybe given the bowlers just that little bit more respect, then they could have got 30-40 runs which could have made the difference," Gavaskar told NDTV.