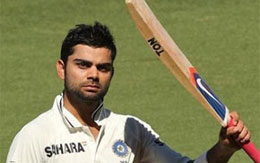 In the latest MRF Tyres ICC Test Championship Rankings, India has been confirmed as the number-one ranked side. India was guaranteed this position after South Africa had trailed 0-2 after three Tests in the four-Test series.
India had previously held the number-one Test position from December 2009 to August 2011.
Australia and South Africa are on equal points at 109 but when the points are calculated beyond the decimal point, then Australia is ranked second as it has 109.4 points as compared to South Africa's 108.9.
With only 11 points separating number-one ranked India from sixth-ranked New Zealand, there is potential for further changes before the 1 April annual cut-off date.
In the final series before focus shifts to the ICC World Twenty20 India 2016, Australia will travel to New Zealand next month for two Tests and if it wins the series, then it will finish as the top-ranked Test side. If Steve Smith's side achieves this, then it will not only reclaim the prestigious MRF Tyres ICC Test Championship Mace, it will also win a cash award of $1million.
MRF TYRES ICC TESTCHAMPIONSHIP (as on 27 January, after the conclusion of the Centurion Test)
RANK TEAM POINTS
1 India 110
2 Australia 109
3 South Africa 109
4 Pakistan 106
5 England 102
6 New Zealand 99
7 Sri Lanka 89
8 West Indies 76
9 Bangladesh 47
10 Zimbabwe 05