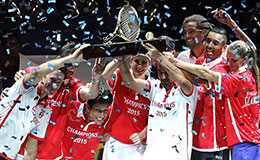 Singapore: After an 18-day 5-nation tour, the Coca-Cola International Premier Tennis League (IPTL) 2015 culminated in an exciting grand finale with an epic showdown between the two table-shoppers, here at the Singapore Indoor Stadium today. Defending champions, the Micromax Indian Aces, with 8 eight wins out of 11 this season, and the OUE Singapore Slammers, last on the league table in first edition, but finishing a strong second this season, played out some exciting tennis as thousands of tennis fans cheered on.
Ultimately, it was the home heroes, the OUE Singapore Slammers that came up tops 26-21 to win the coveted IPTL Championship Trophy and prize money of USD1 million; the Micromax Indian Aces getting USD 500,000 as runners-up.
The Most Valuable Player (MVP) (Male) for IPTL 2015 was Ivan Dodig (Aces) whilst Belinda Bencic (Slammers) was adjudged the MVP (Female) for their superlative performances through the season. The MVP duo of Dodigand Bencic won USD 50,000 each for the dominant tennis they played all throughout the season and their invaluable contribution to their teams, on and off the court.
Captivating audiences with some unbeatable tennis, and never-seen-before match-ups, the IPTL has been hailed by fans and critics as tennis' newest innovation. With a formidable array of tennis superstars that included Roger Federer, Rafael Nadal, Andy Murray, Stan Wawrinka, Kei Nishikori, Marin Cilic, Milos Raonic, Nick Kyrgios on the men's side; and Serena Williams, Maria Sharapova, Ana Ivanovic, Kristina Mladenovic, Agnieszka Radwanska, Sania Mirza making up just some of the names leading the women's charge in the league, the IPTL combined world-class sport and entertainment in a format that keeps both spectators and global TV viewers thoroughly engaged.
Growing to five teams in just its second year, the IPTL has enthralled audiences with some electrifying tennis in Kobe, Manila, Delhi, and Dubai before making its final stop here in Singapore. Played to packed houses at all venues, and reaching millions of viewers across 155 countries around the world, the IPTL delivered competitive tennis every step of the way. In a team format where every game counts, the 2015 edition ensured pulsating tennis action, every set every match!
On behalf of the League, Founder and Managing Director, Mahesh Bhupathi said "From the league perspective, it was a great final. Till yesterday we didn't know who the two finalists would be, which is great. And to have finished it this way for Singapore Slammers, in front of a cheering home crowd, is terrific. The crowds on all three days were fantastic. There were a lot of sceptics last year, but the packed crowds in all 5 cities and just seeing the way the players have adapted and accepted the format is great! We saw some very high quality world-class tennis across all venues, which is testimony to the competitive nature of the IPTL. We got off to a great start last year, added another team in the second year, were broadcast in 155 countries across the world – so it speaks well for the success for the IPTL. Next year is an Olympic year, so I don't see us adding another team, but we'll continue building on from here."
On the evolving nature of sports and the quick format of tennis, he added "Twenty20 cricket has made Test cricket faster, cricketers are scoring runs quicker. In the IPTL, we've seen players like Rafa adapt to the fast paced format of the game, and we all know how Rafa takes his time on the court! Tennis has to evolve, it's with every sport in the last ten years. Maybe in the coming years we'll see some of these rule adaptations on the Tour, which can be good for the game."
What the Players said:
Stan Wawrinka: "A great experience. We have won the title for 2015. I was lucky to arrive just for the last match, the team won many before so I just tried to help them the last few days. It was great fun, the atmosphere was great and hopefully I will come back next year.Hopefully we can come back next year as a team. They come for the two weeks and I come for the last two days. But for me it was great to arrive and play the finals. Today I did what the captain wanted. I came here ready to play and I was happy to play with Marcelo for the first time. It was great fun to play with him."
Marcelo Melo: "Stan asked to play with me, which was great. He's such a great player. I think he helped me more today than I helped him! It was great to have him as my doubles partner today!"
Nick Krygios: "Last year we had some good players but I don't think we had the same chemistry as a team, to be honest. We all got along pretty well from day one. Our energy on the bench was great and when we lost we supported each other and came back each day and gave our best. Every game counts so that was key. My team as a whole worked a lot better together this year." He added, "For me this is a massive opportunity to be in the same team with Stan - Grand Slam Champion, Marcelo - number one doubles player in the world, Carlos - one of the greatest players to have ever played. For me sitting on the bench its massive watching them and seeing how they train. The relationships I now have. That's priceless!"
Dustin Brown: "It's been great. I watched IPTL last year on my TV so to be part of it this year it's been great. Ii was very happy when I got the call after Wimbledon. Our team bonded really well and to be on personal terms with guys I used to only see on TV or play on the Play Station, is fantastic. It's great to be able to call these guys and ask for help. We have a really good chemistry on and off the court and that definitely made the difference in us getting the win today."
Belinda Bencic: "I had a great year and I am very happy to have been in this position. It really helps me with next year and my preparations. I am really looking forward to 2016 and I'd like to be back for the IPTL."
Match Scores:
SINGAPORE

Day 3 | 20th Dec'15

Match 29 | 4pm

Home Team

SCORE (GAMES)

Away Team

OUE Singapore Slammers

Coach: Purav Raja

26

21

Micromax Indian Aces

Coach: Fabrice Santoro

Carlos Moya

6

4

Fabrice Santoro

WOMEN'S SINGLES

Belinda Bencic

6

5

Svetlana Kuznetsova

MIXED DOUBLES

Pliskova/Brown

2

6

Mirza/Bopanna

MEN'S SINGLES

Stan Wawrinka

6

3

Bernard Tomic

MEN'S DOUBLES

Melo/Wawrinka

6

3

Dodig/Bopanna
League Standings:
| | | | | | | | |
| --- | --- | --- | --- | --- | --- | --- | --- |
| No. | Team | MP | MW | ML | GW | GL | W-L% |
| 1 | Micromax Indian Aces | 11 | 8 | 3 | 278 | 236 | 54.09 |
| 2 | OUE Singapore Slammers | 11 | 7 | 4 | 278 | 255 | 52.16 |
| 3 | Obi UAE Royals | 11 | 5 | 6 | 264 | 264 | 50.00 |
| 4 | Philippine Mavericks | 11 | 6 | 5 | 253 | 273 | 48.10 |
| 5 | Legendari Japan Warriors | 11 | 2 | 9 | 240 | 274 | 46.69 |