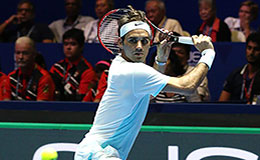 Singapore: It was an electrifying atmosphere at the Singapore Indoor Stadium (SIS) here tonight, when the home team OUE Singapore Slammers led by Stan 'the Man' Wawrinka walked out on court for the opening night match against the Obi UAE Royals, led by none other than Roger Federer! Both teams eager for a win, to bridge the gap for the 2nd spot. The Obi UAE Royals took it away in royal style with Federer at the helm of affairs, closing it 27-23 … the gap between the 2nd and 3rd spot now just 0.7%
Match Summary:
-Coach Purav Raja won the toss for the home team and elected to receive. Truly symbolic of the level of competitiveness that the league has now reached, Ivanisevic fought like a man possessed. Winning the legends singles 6-4 against Carlos Moya, Ivanisevic was happy to have given his team a winning start
-The women's singles was brilliant tennis on display with Mladenovic and Pliskova fighting it out stroke for stroke, taking the set to a thrilling shootout that Mladenovic won 6-5, giving the Royals a 2 set lead
-Mixed doubles got a loud cheer from the packed SIS tonight, when Roger Federer took the court with Kristinia 'Kiki' Mladenovic against Karolina Pliskova and Dustin Brown. Fighting back for home team glory, Pliskova/Brown took the set 6-3 equalizing the score for the Slammers at 15-all
-Men's doubles saw yet another power-packed display of tennis, from Kyrgios/Melo and Nestor/Federer. Both team hungry for a win; the crowds were treated to some superb shot-making from both teams … with the Royals taking it away 6-4, Federer finally happy with his first win this IPTL season
-And for the match-up of the evening, Wawrinka and Federer faced off in the men's singles. Federer now in great rhythm, boosted by the previous set win; Wawrinka taking his time, his IPTL debut match after all. The fans got to see some terrific shot-making from the Swiss stalwarts. Federer, bowing out in Royal style from the IPTL 2015, won the set 6-4
What the Players said:
Roger Federer: "I had a great time in the IPTL last year, and that's why I'm back. It's a great format, the team atmosphere is great. It's nice that even if you lose, they don't let you go down in hole. It's nice to know that even if you lose, you have a strong bench out there. For me personally, I've really enjoyed seeing the legends singles. It's great to see them play, fight out, to see how fit they still are, how well they still play!" On playing in Singapore, he added, "It's my first time here in Singapore. The crowd was fantastic tonight. It's nice that they came out to support me tonight, and I'm happy to be able to win here, having lost 7 of my opening sets in a row this IPTL season!"
Stan Wawrinka: "I really enjoyed to be on the court, I really enjoyed watching it. There is a great atmosphere, even though we lost it was good fun.This is my first time in Singapore, I stay three or four days so I don't think it is too much for my pre-season preparation so I am happy to be here.I am ready to do anything to help the team. Hopefully we can win tomorrow." On his decision to participate in the IPTL, he added, "It is never easy decision to add something to the off-season but I heard some great comments about the IPTL from last year from the players, from Roger, that it was great fun and you can enjoy it. I think the timing was good for me to play in Singapore so everything makes sense."
Match Scores:
SINGAPORE

Day 1 | 18th Dec'15

Match 26 | 7:30pm

Home Team

SCORE (GAMES)

Away Team

OUE Singapore Slammers

Coach: Purav Raja

23

27

Obi UAE Royals

Coach: JL De Jager

MEN'S LEGENDS SINGLES

Carlos Moya

4

6

Goran Ivanisevic

WOMEN'S SINGLES

Karolina Pliskova

5

6

Kristina Mladenovic

MIXED DOUBLES

Pliskova/Brown

6

3

Mladenovic/Federer

MEN'S DOUBLES

Krygios/Melo

4

6

Nestor/Federer

MEN'S SINGLES

Stan Wawrinka

4

6

Roger Federer