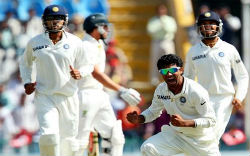 In the ICC Player Rankings for Test Bowlers, Australia's Josh Hazlewood has entered the top 10, rising up four spots after claiming seven wickets in Australia's win over the West Indies, while off-spinner Nathan Lyon has moved up two spots into 15th after a three-wicket haul in Hobart.
The all-rounders held steady in the top four positions, Ravindra Jadeja managing to move up a spot and enter the top five club, for a career best fifth place ranking and has Proteas' Vernon Philander in his sights.
New Zeland's Kane Williamson has earned the rise to third place, just three points off South Africa's AB de Villiers, thanks to two consistent knocks of 88 and 71, helping New Zealand extend its winning streak to 12 home Test victories in a row, after it beat Sri Lanka by 122 runs.
Williamson's team-mate Martin Guptill has jumped up a remarkable 18 places, after scoring 156 and 46. Guptill was rewarded with only his second man of the match award in Tests.
Black Caps skipper Brendon McCullum has moved up two places to 17th, while his Sri Lanka opposite number Angelo Matthews has marked the visiting side's presence in the top 10 batsman rankings, down one place to seventh.

Over in Hobart, Australia skipper Steven Smith has tumbled three places to fourth and he is now just 11 points ahead of his team-mate David Warner.
New Zealand's Trent Boult grabbed four wickets against Sri Lanka allowing him to retain sixth place as the top six spots in the bowler rankings has remained unchanged. Dale Steyn maintains pole position which he has done since December 2013, while Rangana Herath's two wickets were enough to keep him in 10th position. Nuwan Pradeep's four wickets in the first innings have earned him a six-point rise up the rankings to 53rd.
The second and final Test between New Zealand and Sri Lanka starts in Hamilton (18-22 December) with the home side aiming to seal the win which would see it overtake England by a decimal point into fifth place on 99 points in the ICC Team Rankings.

ICC TEST PLAYER RANKINGS (as on 15 December, after Dunedin and Hobart Tests)

Batsmen
Rank (+/-) Player Team Pts Avge HS Ranking
1 ( - ) Joe Root Eng 886 54.90 917 v Aus at Trent Bridge 2015
2 (+1) AB de Villiers SA 881 51.39 935 v Aus at Port Elizabeth 2014
3 (+1) K. Williamson NZ 878 49.16 893 v Aus at Perth 2015
4 (-3) Steven Smith Aus 874 54.61 936 v Eng at Lord's 2015
5 ( - ) David Warner Aus 863 50.64 880 v NZ at Perth 2015
6 (+1) Younus Khan Pak 826 53.94 880 v SL at Lahore 2009
7 (-1) A. Mathews SL 814 50.46 877 v NZ at Christchurch 2014
8 ( - ) Hashim Amla SA 810 50.64 907 v Pak at Abu Dhabi 2013
9 ( - ) Alastair Cook Eng 803 47.47 874 v Ind at Kolkata 2012
10 (+1) Misbah-ul-Haq Pak 764 48.89 842 v NZ at Abu Dhabi 2014

Selected rankings

Rank (+/-) Player Team Pts Avge HS Ranking
11 (-1) Ross Taylor NZ 753 45.99 871 v WI at Hamilton 2013
15 (+19) Adam Voges Aus 720*! 76.83 720 v WI at Hobart 2015
17 (+2) B McCullum NZ 697 38.73 760 v SL at Christchurch 2014
21 ( - ) D Chandimal SL 690! 46.94 690 v NZ at Dunedin 2015
25 (+2) Darren Bravo WI 631 41.34 709 v Aus at Trinidad 2012
29 ( - ) D Karunaratne SL 607 35.97 619 v WI at Galle 2015
30 (+5) Tom Latham NZ 590*! 41.00 590 v SL at Dunedin 2015
31 (-3) B J Watling NZ 579 37.64 644 v Eng at Headingley 2015
35 (+7) K Brathwaite WI 556 33.76 591 v Eng at Grenada 2015
39 (+17) Shaun Marsh Aus 537*! 37.72 537 v WI at Hobart 2015
53 (+18) Martin Guptill NZ 441 30.60 597 v WI at Jamaica 2012

Bowlers
Rank (+/-) Player Team Pts Avge HS Ranking

1 ( - ) Dale Steyn SA 875 22.56 909 v WI at Centurion 2014

2 ( - ) R Ashwin Ind 871! 25.39 871 v SA at Delhi 2015

3= ( - ) J Anderson Eng 846 28.96 847 v WI at Barbados 2015

( - ) Yasir Shah Pak 846*! 24.17 846 v Eng at Sharjah 2015

5 ( - ) Stuart Broad Eng 840 29.12 852 v Aus at Trent Bridge 2015

6 ( - ) Trent Boult NZ 803 28.10 825 v Eng at Lord's 2015

7 (+4) J Hazlewood Aus 792*! 22.65 792 v WI at Hobart 2015

8 (-1) R Jadeja Ind 789*! 23.76 789 v SA at Delhi 2015

9 ( - ) V Philander SA 746 22.08 912 v Ind at Johannesburg 2013

10 (-2) R Herath SL 739 29.66 851 v Pak at Colombo (SSC) 2014

Selected rankings
Rank (+/-) Player Team Pts Avge HS Ranking

12 (+2) T Southee NZ 687 32.31 799 v WI at Jamaica 2014

15 (+2) N Lyon Aus 641 33.78 648 v Eng at Melbourne 2013

16 ( - ) D Prasad SL 626* 35.97 632 v WI at Colombo (PSS) 2015

17 (+1) P Siddle Aus 619 30.06 816 v Eng at Old Trafford 2013

23 (+3) N Wagner NZ 540* 34.01 549 v WI at Barbados 2014

53 (+6) N Pradeep SL 331*! 46.77 331 v NZ at Dunedin 2015

88 (+28) M Santner NZ 166*! 25.33 166 v SL at Dunedin 2015

89 (+9) D Chameera SL 160*! 43.77 160 v NZ at Dunedin 2015

All-rounders
Rank (+/-) Player Team Pts HS Ranking

1 ( - ) R Ashwin Ind 406 419 v WI at Mumbai 2013
2 ( - ) S Al Hasan Ban 384 419 v Zim at Khulna 2014
3 ( - ) S Broad Eng 315 382 v Pak at Abu Dhabi 2012
4 ( - ) V Philander SA 298*/ 376 v Aus at Cape Town 2014
5 (+1) R Jadeja Ind 259*/*! 259 v SA at Delhi 2015

*indicates provisional rating; a batsman qualifies for a full rating after playing 40 Test innings; a bowler qualifies for a full rating when he reaches 100 Test wickets.

!indicates career-highest rating