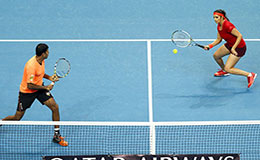 Delhi: In keeping with their fine form, the Micromax Indian Aces provided much cheer to home fans, with their spate of victories day after day at the ongoing Coca-Cola International Premier Tennis League 2015. Day two closed with the home team notching a stupendous 26-21 win against the visiting Legendari Japan Warriors, taking them to the top of the league tables for yet another day!
Match Summary:
- Starting off with the mixed doubles, Mirza/Bopanna showed their doubles magic once again, winning the opening set 6-4 against Lucic-Baroni/Herbert, giving the home team just the perfect start to the evening
- Agnieszka Radwanskawon it short & easy against young Kurumi Nari, the shortest set of the evening, closing it out 6-2
- Men's doubles saw the match swing the other way, with Paes/Herbert putting up a good fight against Bopanna/Dodig, the set eventually going to a shoot-out which was won by the visitors, closing the set 6-5 in favour of the Warriors.
- Legends singles saw magician Santoro close it out 6-3 against Thomas Enqvist, giving the Aces a 3 set advantage
- The men's singles was yet another exciting affair with Philipp Kohlschreiber proving a hard opponent for Ivan Dodig, eventually taking the set 6-3 in favour of the Japan Warriors
What the Players said:
Sania Mirza: "We are a great team, we get along really well, clearly nobody wants us to win, but it's great to keep up the winning form. Tennis is such a lonely sport in that sense, we travel alone on the tour and problem-solve at an individual level. But the IPTL has been different. We are all enjoying the team bonding. We look out for each other during matches. It's great to have had Roger Federer in our team last year, but this year, we have an equally good replacement for him (jokingly), and it's great to have Rafa on our team. We are looking forward to seeing the great Roger-Rafa clash tomorrow!" On the IPTL, she added "The IPTL has definitely helped in making friendships on the tour, when I met Fabrice at tour events now, I talk to him more now. I've also met some players for the first time here at the IPTL, which is great." On her mixed doubles partnership with Rohan, she added "Rohan is the first person I played mixed doubles with, when I was 14years old. Over the years, we know each other so well, and are able to anticipate each other's games well too, which is the success to our partnership. The beauty about our relationship is that it doesn't revolve around tennis, he is my best friend off the court too, so it doesn't mean that I have to play with him all the time."
Rohan Bopanna: "The team is playing really well, we're enjoying a great run of form, all of us together, and it's great to be winning here on home turf. Looking forward to seeing Rafa-Roger play it out tomorrow."
Agnieszka Radwanska: "I love India, I love the IPTL. The spirit of competition is very high, and it is great environment.(jokingly) the 'Ninja' in our team is clearly Fabrice, he has taken away the title from me!"
Match Scores:
INDIA

Day 1 | 11th Dec'15

Match 16 | 7:30pm

Home Team

SCORE (GAMES)

Away Team

Micromax Indian Aces

Coach: Fabrice Santoro

26

24

Legendari Japan Warriors

Coach: Josh Eagle

MIXED DOUBLES

Mirza/Bopanna

6

4

Lucic- Baroni/Herbert

WOMEN'S SINGLES

Agnieszka Radwanska

6

2

Lucic-Baroni

MEN'S DOUBLES

Bopanna/Dodig

5

6

Paes/Herbert

MEN'S LEGENDS SINGLES

Fabrice Santoro

6

3

Thomas Enqvist

MEN'S SINGLES

Ivan Dodig

3

6

Philipp Kohlschreiber