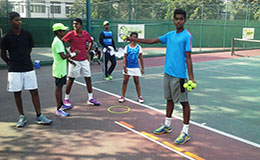 New Delhi: Mahesh Bhupathi Tennis Academies (MBTA) conducted India's first ever Ball Boys & Girls today Hunt at the Maple Town and Country Club for the upcoming Coca-Cola International Premier Tennis League (IPTL) in December, this year.

Among the kids who were selected from today's Hunt were Durvish Handa, Jayant Varma, Archita Mahalwal, Lakshya Gupta, Neharika Ann Mann Amrita Yadav, Ananya Bhargava and Hrithik Vohra.

The winners will be trained for 3 to 4 days in Delhi before the second season of the Coca-Cola International Premier Tennis League begins on 10th December, 2015.

Speaking on her selection, Nandita Saxena said, "This is so exciting! We've been practising the game for over a year now and are very thrilled to be part of the biggest tennis tournament of this year. Watching our favourite international players live in action will definitely inspire us, and motivate many of our peers to engage with the game."

Ball boys and girls play an important role in any formal tennis, and being selected for an international league is a matter of pride for any budding tennis aspirants.

Speaking on the occasion, Gaurav Natekar, CEO of MBTA said, "MBTA Coca Cola ITPL Ball Kid's Hunt has evoked a great response from the children and parents in Delhi NCR. The kids showed terrific confidence and stamina in today's Hunt. We, at MBTA, are excited for the kids to be part of the MBTA ITPL Ball Kids as it is a great platform for young tennis aspirants to watch an International tennis league from up-close and learn from their favourite tennis idols."

MBTA ITPL Ball Kids Hunt was the first of its kind in the India, which was to primarily test the kids on their speed, agility, mobility, stamina as well as their knowledge of the game.