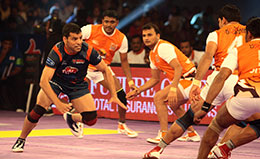 Jaipur: Comeback man Pravin Niwale was the star for Puneri Paltan on a day when most of the things fell in place for them. Captain Wazir Singh gave him good support in attack and Ravi Kumar also came to the party. With timely tackles, the Pune side eked out a 33-29 win over Bengal Warriors. For the Kolkata side, it was yet another futile exercise with their leader Dinesh Kumar not able to deliver to his potential. For a super star of his stature just four points in 18 raids is a poor score. With this win, Puneri Paltan move up to sixth place with eight points and the Warriors stay in seventh position with eight points as well.
It was a neck and neck race initially but Wazir made his intentions clear with a rasping kick on Nilesh Shinde to open the account. On the other hand, Dinesh put a wrong foot forward straying into the lobby to concede a point. He committed another unpardonable error while exceeding the 30 seconds limit for a raid. Jan Kun Lee kept the Bengal Warriors in the fray scoring a couple of points but the winners pulled ahead at 9-8 to go further and inflict the first all out at 17-10 on the stroke of half-time. It was a super raid by the star tonight Pravin Niwale who pocketed four points.
Niwale was again in the middle of the action in the second half too. He went on to score seven raid points in a couple of raids on one occasion. When Wazir came up with a couple to dismiss the last two on the mat, the second all-out in the 29th minute gave Pune a whopping match-winning 28-14 lead. While the raiders were making merry, it was Ravi Kumar who came up with five defence points to rub it in.

Mahendra Rajput, who came in as a substitute raider for Bengal Warriors, did enough to whittle down the lead with four points. Jang Kun Lee's contribution of five points was substantial but the failure of his team's defence was the last straw that broke their back.
[module-214]