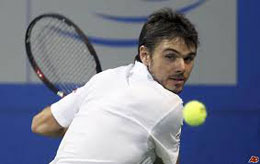 Chennai: The 2015 edition of the Aircel Chennai Open will mark twenty years since the very first game of India's premier and South Asia's only ATP World Tour stop was played. Today, the tournament has grown into a marquee ATP tennis event in South Asia, attracting the attention of some of the world's top tennis stars. The20th edition of the Aircel Chennai Open will present an exceptionalassembly of talent that includes four top-25 players and three 2014 ATP World Tour Award winners.
Cutting off at 95, the strong player field for the region's most exciting and hard fought tennis tournament will witness some of the world's most exciting names in tennis converging in India. These include thrilling talent such as World No. 4 and Defending Singles Champion Stan Wawrinka, World No. 14 Feliciano Lopez, World No. 15 Roberto Bautista Agut, and former Champion Janko Tipsarevic, returning to competitive tennis after surgery and granted a wild card.
Other leading players who will add excitement to the event include Belgium's David Goffin, Spaniards Guillermo Garcia-Lopez and Marcel Granollers, Luxembourg's Gilles Muller, Chinese Taipei's Yen-Hsun Lu and 2014 finalist Edouard Roger-Vasselin.

Bautista Agut, voted by fellow players as the Most Improved Player of the Year, Goffin, honored as Comeback Player of the Year, in addition to Croatia's 17-year-old Borna Coric, who won the ATP Star of Tomorrow Award for being the youngest player ranked in the Top 100, have confirmed to participate in the upcoming tournament.

The Twentieth Year celebrations of India's only ATP World Tour stop are including a host of exciting activities sure to thrill tennis fans who are waiting to enjoy scintillating tennis action at Chennai's SDAT Tennis Stadium between January 5 and 11, 2015. Initiatives include the launch of a special logo created to mark the occasion, a renovated SDAT Stadium, and a host of ongoing activities across India.
Yet again, 29-year-old Swiss powerhouse World No. 4, Stan Wawrinka will be at the forefront of the singles draw and visiting Chennai for the seventh consecutive year to vie for a crown he has won twice already. In brilliant form, the Lausanne native won the tournament's singles title for the second time in 2014. A year earlier, the Olympic doubles gold medalist wowed onlookers when he partnered Frenchman Benoit Paire to lift the tournament's doubles title in a thrilling match.

Stan followed his Chennai victory by capturing his first Grand Slam championship title with a stunning four-set victory over top seed Rafael Nadal in the Australian Open final, also making him the first player since 1993 to eliminate two top seeds, Novak Djokovic and Nadal in a Grand Slam tournament. He also reached a career high of No. 3 after this victory.

He went on to represent Switzerland in a 3-2 win over Serbia in the Davis Cup World Group first round and helped his country reach Davis Cup semi finals for first time since 2003. Continuing his dream run, in April, he captured his first ATP World Tour Masters 1000 title at Monte-Carlo with a three-set win over fellow Swiss Roger Federer and with it, pocketing his third title of the season. After this, he lost in the first round of the French Open but ended his Wimbledon campaign in the quarters for the first time. Few things could better Stan qualifying for the Barclays ATP World Tour Finals 2014 for the second straight year and Switzerland clinching its first Davis Cup trophy and the player's active role in it.

World No. 14 Feliciano Lopez will begin his 2015 season in Chennai after playing an impressive year of tennis where he successfully defended his AEGON International title and became the first player to reach consecutive grass-court finals prior to Wimbledon since 2001. He left a strong impression by reaching the fourth round of Wimbledon but went down valiantly to Stan. The Madrid native also reached the third round of the US Open for the fifth straight year, apart from defeating World No.2 Rafael Nadal at the Shanghai Rolex Masters. He is also known for a big, strong serve and capacity to play balls repeatedly on the baseline. Lopez will be a player to watch out for at the forthcoming tournament.

Current World No. 15 Roberto Bautista Agut has charmed Chennai's tennis fans in two hard fought encounters in the past – as unseeded player and first-time ATP World Tour finalist in 2013 and World No. 59 in 2014. This year, he is coming back after a season of fantastic victories and a demonstration of pure class that enabled him to win the ATP's Most Improved Player of the Year Award. Bautista climbed from a year-end No. 59 Emirates ATP Ranking last season to a career-high No. 14 in 2014. He claimed his first ATP World Tour title on the grass courts of the Topshelf Open ('s-Hertogenbosch) in June, triumphed on his transition to clay a few weeks later at the MercedesCup in Stuttgart, and reached the indoor Kremlin Cup by Bank of Moscow hard-court final in Moscow in October.

The Spaniard made a statement on some of the biggest stages: he reached the fourth round at the Australian Open after coming back to defeat World No. 5 Juan Martin del Potro in five sets in the second round, and advanced to the semi-finals at the Mutua Madrid Open, stopped only by Rafael Nadal. Bati finished the season with 45 match wins – 19 more than his previous career-high.Armed with a collection of strong victories and intop form, it will be interesting to watch him play at the Aircel Chennai Open 2015.

23-year-old David Goffin is a proud World No. 22 who was recently honored as Comeback Player of the Year in the 2014 ATP World Tour Awards. The Belgian returned from a left wrist injury to finish the season at a career-high. Goffin, who began his 2014 campaign in January ranked No. 110, compiled a 44-4 match record from July onwards, inclusive of matches on the ATP World Tour, ATP Challenger Tour and qualifying. His perfect month of July included three straight Challenger titles and his first ATP World Tour title at the Austrian Open, all in consecutive weeks. He extended his unbeaten streak to 25 matches by qualifying and reaching the Winston-Salem Open quarter-finals. After a third-round run at the US Open, David went on another winning streak of 16 matches – with titles at the Moselle Open and Mons Challenger – prior to a runner-up finish at the Swiss Indoors Basel.

Wildcards have been granted to Serbia's Janko Tipsarevic, and ace Indian players Somdev Devvarman and Ramkumar Ramanathan. Tipsarevic is fast recovering and practicing after surgery and all set to make a return to competitive tennis in the new season. For the seventh year, the player (career high of 8, April 2, 2012) will kick-start his season at the Aircel Chennai Open. In 2013, Tipsarevic had a dream start to the season when he captured the fourth ATP World Tour title of his career, defeating Bautista Agutin three sets. In the 2012 edition, Tipsarevic lost to 21-year-old Canadian Milos Raonic in an epic three hour and 14-minute singles final. Immediately following this match, he won the 2012 doubles crown with Leander Paes in front of a full-house Centre Court crowd.

Devvarman, currently ranked World No.139, won the first edition of the 2014 ONGC–GAIL Delhi Open in February this year. Last year, the 29-year-old dramatically broke into the top 100 list and had an impressive run at tournaments. The ATP also nominated him for its Comeback Player of the Year award in 2013. Young Ramanathan, on the other hand, attained a career high ranking of World No.211 this month and has won 5 Futures Titles apart from4 Futures Doubles titles with different partners in 2014.

Other proficient players comprise 2014 finalist Edouard Roger-Vasselin and World No. 91 Borna Coric. Coric began the season ranked outside the Top 300, broke into the Top 100 on October 27 and reached a career-high No. 91 recently. The Croatian reached the Vegeta Croatia Open Umag quarter-finals (l. to Fognini) in July and made his Grand Slam championship debut as a qualifier at the US Open, prior to beating World No. 3 Rafael Nadal en route to the Swiss Indoors Basel semi-finals in October. He also won one ATP Challenger Tour title and won the ATP Star of Tomorrow Award this year.

The organizers of the Aircel Chennai Open also announced today the commencement of the sale of online tickets for the 20th edition. The online sale of season tickets for Aircel Chennai Open 2015 will commence at 08.00 hours on Friday, November 28, 2014 and fans can grab exciting early bird offers until November 30 on www.bookmyshow.com, the tournament's Official Ticketing Partner. Priced at INR 5000, 3000 and 1500, season tickets can be booked exclusively on www.bookmyshow.com. Fans can also log on to the official website www.aircelchennaiopen.org for further details. Options will also be available for corporate and bulk purchases.

While daily tickets will be sold online 24hrs prior to matches on BookMyShow as well as on respective match days at the venue, enthusiasts can choose from a host of options for season tickets. Stands include the East Green, Yellow and Brown, West Green, Yellow and Brown, North Brown and Yellow, and South Yellow 1, Brown and Yellow 2. Additionally, Centre Court tickets will give visitors access to matches on outside courts as well, giving ticket holders access to even more exciting tennis action!

Tom Annear, Tournament Director, Aircel Chennai Open said, "In its 20th edition, the Aircel Chennai Open is proud to present a top lineup of stars in a very strong player field that underlines the tournament's position as a marquee ATP tennis event in South Asia. I'm sure some great matches and edge of the seat action will make this a grand anniversary celebration indeed."

Renuka Jaypal, National Brand Head, Aircel said, "We are pleased to launch Aircel Chennai Open 2015 with a highly competitive lineup of players who will really ensure the 20th edition pays tribute to the tournament's fantastic achievements during the last two decades. Aircel is honoured to be associated with the prestigious tournament that really brings to the fore Chennai's rich tennis culture and wishes the players the very best as they prepare to play."

M. A. Alagappan, President of Tamil Nadu Tennis Association said, "We have reached an important milestone in Indian tennis and are all set to celebrate the 20th edition in a big way. The impressive playing field is just one indicator of the premier sporting extravaganza the Aircel Chennai Open is and we look forward to taking the tournament to greater heights in the seasons to come. We would like to express our gratitude to the players who have confirmed, to the Government of Tamil Nadu, and all our sponsors for their support. We are waiting to witness world-class action in January."
Ashu Jindal, Chief Operating Officer, IMG Reliance said, "This is a landmark year for the Aircel Chennai Open and we are pleased to present a line-up that reflects just that. The field includes Chennai's favourite champions Stan Wawrinka and Janko Tipsarevic apart from a host of others who are playing top-notch tennis around the world. I am thrilled that with each passing year, we are getting better and better and are not just Chennai's annual sporting extravaganza but the longest running annual tennis event in South Asia. The stage to celebrate the spirit of tennis is set and we look forward to a fantastic 20th year tournament."

The Title Sponsor for the tournament is Aircel and the event is supported by a consortium of sponsors in the Platinum category, headed by the Government of Tamil Nadu.