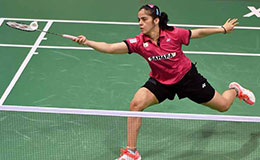 New Delhi: Come 2nd January 2016, the Premier Badminton League will witness the editions first clash between Awadhe Warriors and Mumbai Rockets. Playing in the same team as Saina Nehwal, G Vrushali feels lucky to be in the same team and looks at picking up useful tips from the World No. 2.
Commenting on playing in the same team as Saina, G Vrushali said, "I think it will be dream come true for any player to represent the same team as Saina Nehwal. It will be a huge platform for me as I will even take this as an opportunity to pick up useful learning from her. I am excited and looking forward to play for Awadhe Warriors.
Apart from Saina, there are other international players which make our team look very strong and I hope we win the title. What also excites me is the rules, which I think will be a huge game changer in the League."
The Premier Badminton League will start from 2nd January 2016 where six franchisees - Delhi Acers, Hyderabad Hunters, Bengaluru Top Guns, Chennai Smashers, Mumbai Rockets and Awadhe Warriors - will compete for the top honour. The opening day of the League will witness Awadhe Warriors taking on Mumbai Rockets in Mumbai.