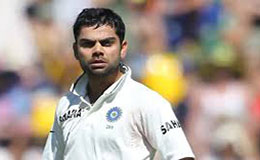 Mohali: India captain Virat Kohli is India's highest-ranked batsman in 13th position in the ICC Test rankings and is accompanied by Cheteshwar Pujara (19th) and Murali Vijay (20th) inside the top 20, while England's Joe Root currently occupies the coveted number-one spot with Australia captain Steven Smith in second, just three points behind.

Led by number one-ranked Dale Steyn, South Africa boasts Vernon Philander (seventh) and Morne Morkel (11th) inside the top 20 with Imran Tahir in 59th spot. For India, Ravichandran Ashwin (eighth) and Ishant Sharma (19th) are inside the top 20, while the next highest-ranked bowler is Ravindra Jadeja in 30th spot, followed by Amit Mishra (38th), Umesh Yadav (42nd) and Varun Aaron (86th).
The ICC Test Player Rankings are also up for major reshuffle as the bulk of the star performers will be in action over the next few weeks.

Root and Smith have been involved in the fight for the number-one slot since the Trent Bridge Test. And because there is such a small gap between the two batsmen, neither of them has been able to retain the slot for an extended period of time. With Root left with just one innings in the ongoing series, Smith has an opportunity to not only leapfrog Root but also create some daylight as he has six innings in hand.

Breathing down the throats of Root and Smith are the South African duo of Hashim Amla and AB de Villiers, who are separated by just nine points, with team-mate Faf du Plessis sitting in 16th spot.

Kane Williamson (seventh) of New Zealand and Australia's David Warner (ninth) are the other batsmen inside the top 10 with Black Caps' Ross Taylor and Brendon McCullum in 13th and 15th positions respectively.

The New Zealand batsmen will face a real challenge in the three-Test series as five Australia bowlers feature inside the top 20. These include Mitchell Johnson (sixth), Peter Siddle (13th), Josh Hazlewood (16th), Nathan Lyon (17th) and Mitchell Starc (20th).

Fifth-ranked Trent Boult will spearhead New Zealand's bowling attack, which also includes Tim Southee (10th), Mark Craig (39th) and Doug Bracewell (40th).

The top five all-rounders includes three players who will feature in Australia and India, including Ashwin (second), Philander (fourth) and Johnson (fifth).
Batsmen (top 20)
Rank Player Team Pts Ave HS Rating
1 Joe Root Eng 913 56.79 917 v Aus at Trent Bridge 2015
2 Steven Smith Aus 910 56.27 936 v Eng at Lord's 2015
3 AB de Villiers SA 890 52.09 935 v Aus at Port Elizabeth 2014
4 Hashim Amla SA 881 52.48 907 v Pak at Abu Dhabi 2013
5 Younus Khan Pak 854 54.31 880 v SL at Lahore 2009
6 Angelo Mathews SL 851 51.43 877 v NZ at Christchurch 2014
7 Kane Williamson NZ 813 45.70 860 v Eng at Lord's 2015
8 Alastair Cook Eng 783 47.39 874 v Ind at Kolkata 2012
9 David Warner Aus 775 46.78 880 v Ind at Adelaide 2014
10 Misbah-ul-Haq Pak 757 48.77 842 v NZ at Abu Dhabi 2014
11 Asad Shafiq Pak 746! 43.89 746 v Eng at Dubai 2015
12 Virat Kohli Ind 730 45.06 784 v NZ at Wellington 2014
13 Ross Taylor NZ 722 44.99 871 v WI at Hamilton 2013
14 S Chanderpaul WI 720 51.37 901 v NZ at Napier 2008
15 B McCullum NZ 715 38.76 760 v SL at Christchurch 2014
16 Faf du Plessis SA 709* 51.55 710 v WI at Port Elizabeth 2014
17 Azhar Ali Pak 697 44.06 753 v SL at Pallekele 2012
18 Sarfraz Ahmed Pak 689* 46.96 715 v SL at Galle 2015
19 C Pujara Ind 681 49.28 851 v SA at Durban 2013
20 Murali Vijay Ind 680 41.72 689 v Ban at Fatullah 2015
Bowlers (top 20)
Rank Player Team Pts Avge HS Rating
1 Dale Steyn SA 905 22.48 909 v WI at Centurion 2014
2 Yasir Shah Pak 827*! 24.55 827 v Eng at Dubai 2015
3 James Anderson Eng 824 29.20 847 v WI at Barbados 2015
4 Stuart Broad Eng 817 29.40 852 v Aus at Trent Bridge 2015
5 Trent Boult NZ 814 27.12 825 v Eng at Lord's 2015
6 Mitchell Johnson Aus 773 27.94 849 v Pak at Dubai 2014
7 Vernon Philander SA 770 22.13 912 v Ind at Johannesburg 2013
8 R Ashwin Ind 760 28.44 808 v WI at Mumbai 2013
9 Rangana Herath SL 751 29.49 851 v Pak at Colombo (SSC) 2014
10 Tim Southee NZ 713 31.63 799 v WI at Jamaica 2014
11 Morne Morkel SA 705 29.66 776 v Aus at Cape Town 2011
12 Saeed Ajmal Pak 675 28.10 855 v Zim at Harare 2013
13 Peter Siddle Aus 646 29.87 816 v Eng at Old Trafford 2013
14 Kemar Roach WI 642 28.21 774 v SA at Centurion 2014
15 D Prasad SL 632*! 35.97 632 v WI at Colombo (PSS) 2015
16 Josh Hazlewood Aus 628* 21.75 634 v Eng at Trent Bridge 2015
17 Nathan Lyon Aus 616 34.09 648 v Eng at Melbourne 2013
18 Shakib Al Hasan Ban 614 33.29 700 v Zim at Khulna 2014
19 Ishant Sharma Ind 613 36.51 671 v WI at Dominica 2011
20 Mitchell Starc Aus 596* 31.80 627 v Eng at Trent Bridge 2015