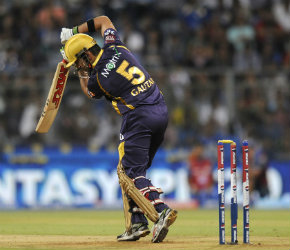 Kolkata Knight Riders are officially out of the race of the play-offs as they were outplayed by Pune Warriors India in almost all the departments at JSCA Stadium on Wednesday. It was brilliant batting from the trio of Yuvraj Singh, Aaron Finch and Manish Pandey which helped them post a humongous total of 170. Later, Bhuvneshwar Kumar and Wayne Parnell bowled well to restrict the KKR to 163.
Here we bring to you the hits and flops from the the match between Pune Warriors India and Kolkata Knight Riders.
HITS

Manish Pandey: Pandey struck the ball quite nicely as he went on to score 66 runs off just 47 balls. He smacked eight crisp boundaries which helped his side reach a stiff total of 170.
Yusuf Pathan: Pathan made the mess of his stunning 72 runs when he intentionally kicked the ball while taking a single which sent him back to the pavilion for restricting the field. He was looking in good touch and could have won the match for KKR.
Yuvraj Singh: Yuvraj showed some good form as he hit three sixes in his knock of 30 runs. He started off slowly but made sure that he stays till the end to accompany Pandey who was looking brilliant with the bat.
Ryan Ten Doeschate: Doeschate got run out after scoring valuable 42 runs for KKR. He kept his side in the hunt of chasing down this target. He scored four fours and one six in his crucial knock.
Aaron Finch: Finch smashed 48 runs which were studded with two fours and three sixes. He was looking in great touch with the bat and was trying to bat for as long as possible.
Bhuvneshwar Kumar: Kumar did some fabulous bowling in his final over. He kept bowling full and wide which didn't allow the batsmen to free his arm. He gave away just four runs in that over and ensured the victory for PWI as he ended up picking the wicket of Manoj Tiwary.

FLOPS

Gautam Gambhir: Gambhir got dismissed after scoring 12 runs as he was deceived by the Ishwar Pandey. He went for the big shot and mistimed it.
Ishwar Pandey: Pandey has been the disappointment for PWI so far and he was no different against KKR. He kept bowling in wrong channel and gave away 17 runs in his two overs.
Manvinder Bisla: Bisla failed once again as he failed to judge the swing of the ball. He was trapped in front of the middle-stump by Wayne Parnell.
Angelo Mathews: Mathews went for 25 runs in the three overs that he bowled. He was milked away for ones and twos initially and was smacked in the later part.
Jacques Kallis: Kallis once again failed while chasing the big target as he was dismissed for just one run. Parnell bamboozled him in his second over and made sure that KKR are off to a poor start in this match.
Ali Murtaza: Murtaza didn't do any good with the ball and gave away 34 runs in his four overs. He kept on trying anything and everything but failed to get it right. There was hardly an over where he gave away less than 8 runs.
By Amit Chopra
Indian Sports News Network