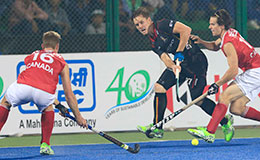 Raipur: Jerome Truyens marked his 300th senior international appearance with a goal as Belgium's Red Lions surged to 7-2 victory over Pool A opponents Canada on Day 3 of the Hero Hockey World League Final 2015 in Raipur, India.
Belgium were in sparkling form in the first quarter, powering in four fantastic goals through Sebastien Dockier, Florent van Aubel and Thomas Briels before Truyens – who was also named Hero Man of the Match - netted in his milestone game.
Canada were vastly improved in the second and third quarters, with Mark Pearson pulling a goal back ahead of a beautiful flicked finish from Devohn Noronha Teixeira. However, Belgium moved back into top gear in the final quarter, with Arthur van Doren and Tom Boon on target before van Aubel claimed his second to give the Red Lions their first win of the competition.
"It is always great to have a win in such circumstances, and also to score", said 28-year-old Truyens, who started his international career in 2004, after the game.
"The fact that my team has won and everyone has been congratulating me has been really special. You always want to score on such occasions, so I am happy that I have done that. What matters is the three points today."
Hero Man of the Match: Jerome Truyens (BEL)