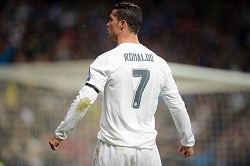 Cristiano Ronaldo said it hurt him to see Lionel Messi in tears after Argentina's defeat in the Copa America final and he hoped that he would reconsider his decision to retire from international football.
According to Spain's Mundo Deportivo and AS newspapers, Ronaldo was quoted as saying, "He (Messi) has made a tough decision and people should understand. He is not accustomed to defeats and disappointments. Finishing second and missing a penalty does not make you a bad player. It hurts to see Messi in tears and I hope he returns to play for his country, because he needs it."
An emotional Messi announced his retirement from international football after losing to Chile in the Copa America for the second consecutive time. The final had to be decided with the penalty shootout. Messi missed his penalty, kicking it over the bar, before Bravo saved another one to seal Argentina's fate. After the defeat, Messi said, "I've done all I can."
From football legend Diego Maradona to singer Lionel Richie, all have requested Messi to rejoin international football. Even Mauricio Macri, the Argentine president himself, has urged Messi to reconsider his decision
On the field, both of these players are one of the fiercest rivals, but off the field, they are all praises for each other. Both of these superstars are yet to win an international tournament with their senior team. Messi has lost the Copa America final twice and the World Cup final once with Argentina. Ronaldo also came close to winning an international tournament in Euro 2004 when Portugal lost to Greece in the final.
All we can do is hope that Messi and Ronaldo both continue to play football and keep entertaining us with their dazzling skills.